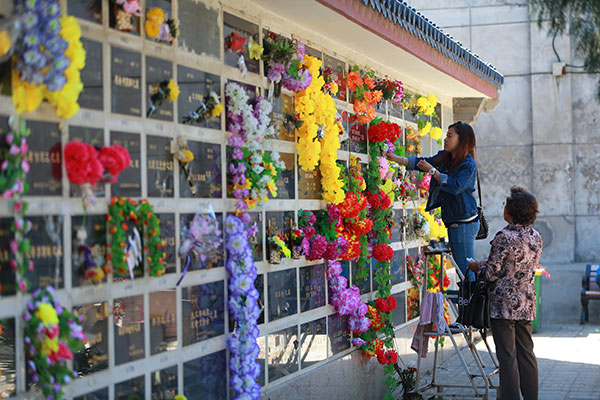 People use fresh flowers to commemorate their deceased family members at Beijing's Babaoshan Cemetry on Sunday, ahead of Tomb Sweeping Day, which falls on Monday. ZOU HONG/CHINA DAILY
Cars from Beijing crowded the parking lot of Lingshan Pagoda Cemetery in Sanhe city days before Tomb Sweeping Day, which falls on Monday. Located about 50 kilometers from Beijing, the 50-hectare cemetery is one of the most popular burial sites for Beijing residents.
The cemetery's management company is even headquartered in downtown Beijing's central business district to better serve its clients in the capital.
"Rest assured, the tombs here are much bigger than in Beijing," an employee surnamed Chen told a potential client.
Most cemeteries in Chinese cities are full, so burials in neighboring cities have become popular. About 80 percent of the plots in cemeteries in cities in Hebei province, which surrounds Beijing, are sold to residents of the capital.
Larger tomb space and lower prices are the biggest draws. Chen said one-third of the cemetery's 30,000 plots have already been sold.
In addition to the cemetery in Sanhe, there are also large cemeteries in Hebei's Yixian county and Zhuozhou city.
Traditional Chinese beliefs dictate that burial is the correct way to treat the dead. To demonstrate filial piety, many Chinese invest heavily in their parents' tombs.
Analysis of cemetery companies' accounts showed their profit margins are extremely high. Last year, Fucheng Wufeng, the parent of the company that operates the Lingshan cemetery, reported a gross profit margin of 83.3 percent. It aims to make a profit of 100 million yuan ($15.4 million) this year.
According to an official report, the average cost of a funeral service in Beijing was 70,000 yuan last year.
Qiao Kuanyuan, an expert with the China Funeral Association, said grave plots have become expensive because of a scarcity of land and government calls for eco-friendly alternatives have been countered by traditional beliefs.
Hang Juan, publicity officer of the Nanjing funeral reform and management department, said more campaigns will be organized to persuade the public not to cling to mianzi, or face, when planning funeral services, and to switch to environmentally friendly practices instead, such as burying ashes under trees or scattering them in the sea.