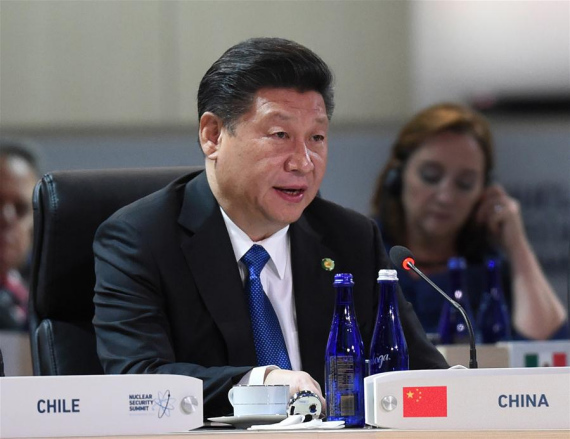 Chinese President Xi Jinping attends the fourth Nuclear Security Summit in Washington D.C., the United States, April 1, 2016. (Photo/Xinhua)
At the fourth Nuclear Security Summit (NSS), Chinese President Xi Jinping reaffirmed China's resolve regarding its commitment to safeguarding global nuclear security.[Special coverage]
With an impressive nuclear security record, China has undertaken a constructive and responsible role in safeguarding global nuclear security.
STEADFAST EFFORTS & PERFECT RECORD
In his speech at the summit held in Washington, Xi announced a slew of new measures to shore up China's nuclear security, pledging to build a network for nuclear security capacity building by using the existing platforms to train nuclear security professionals and carry out plans for exercises and exchanges regarding nuclear security technologies.
China will, in the coming five years, review the radioactive sources in the country, improve the security system and give priority to real-time monitoring of high-risk mobile radioactive sources, said the Chinese president.
Recognizing that it is the fundamental responsibility of each country to maintain security over its nuclear material and facilities, China, the largest developing country, has always been committed to development and utilization of nuclear energy while making security a top priority.
"We have formulated and implemented the mid-to-long-term work plan on nuclear security, and we are making efforts to improve monitoring and law-enforcement mechanisms, carry out capacity building for all personnel in this industry and organize various kinds of mock exercises to raise the ability of emergency response," Xi said in his speech.
"China has always attached great importance to nuclear security, and the country has been making continuous efforts to improve its national nuclear security system and enhance capacity building on nuclear security," said Chen Kai, secretary-general of China Arms Control and Nuclear Disarmament Association.
"The Chinese government has already incorporated nuclear security into its overall national security system," Chen said, adding China has also made it clear in legal terms that nuclear security is a vital aspect of national security and the battle against terrorism, with both its national security law and counter-terrorism law being passed last year.
"The legislation process of an atomic energy law and a nuclear safety law is already under way," Chen said.
"China has maintained a very good record of nuclear security," said Fan Jishe, a researcher with the Chinese Academy of Social Sciences.
"It has never lost a single gram of nuclear material, which is a major contribution to world nuclear security," the researcher added.
PROMOTER OF INTERNATIONAL NUCLEAR COOPERATION
While implementing effective measures and achieving all-round progress in its own efforts to ensure nuclear security, China has taken an active part in international cooperation in the field and provided assistance within its capability to other countries.
One good example of China's tangible efforts in enhancing nuclear security cooperation is the China-U.S. Center of Excellence on Nuclear Security (COE), which officially opened in Beijing in March.
As the largest, best equipped and most advanced facility for nuclear security exchanges and training in the Asia-Pacific region, the COE stands as the largest cooperation project jointly financed and built by the Chinese and U.S. governments in the nuclear sphere.
China is also working with the International Atomic Energy Agency (IAEA) to provide financial support, technical demonstrations and personnel training for other countries.
Recalling that he envisioned the building of a global nuclear security system featuring fairness and win-win cooperation at the third NSS in The Hague in 2014, Xi laid out a four-pronged proposal for the international community to make fresh and concerted efforts to strengthen the global nuclear security architecture, including increasing political input and tightening a line of defense that is sustainable.
"We stand ready to share our experience with other countries and work with them to enhance the security monitoring of radioactive sources," he said.
The president also pledged to support all countries in minimizing the use of highly-enriched uranium (HEU) according to their needs as long as it is economically and technologically viable.
China will promote a cooperation model for less use of HEU, Xi said, referring to his country's help to Ghana to convert a HEU-fueled research reactor to using low-enriched uranium within the IAEA framework.
"We are willing to build on the Ghana model and help countries convert HEU-fueled miniature neutron source reactors imported from China under the principle of voluntarism and pragmatism," he told the plenary.