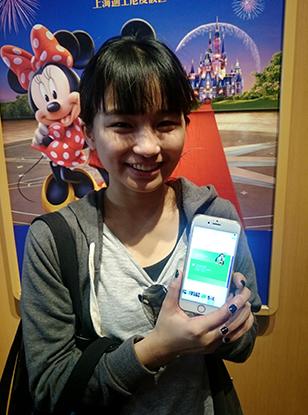 A tourist from Taiwan province displays her e-ticket for the Shanghai Disney Resort on Monday. (Photo/Xinhua)
Shanghai Disney Resort has named three of China's best-known personalities-actress Sun Li, pianist Lang Lang and former NBA basketball player Yao Ming-as honorary ambassadors, to better promote itself as a family-friendly attraction.
With 80 days to go until its grand opening on June 16, General Manager Philippe Gas awarded each of the personalities with a "storytellers" statue as a symbol of what he called his appreciation, respect and admiration for their new partnership.
Hugely popular for her roles in high-quality dramas, and also the mother of two children, Sun Li said: "Shanghai Disney Resort will offer such a vast variety of experiences and attractions that families will be able to spend multiple days exploring all that awaits.
"I know that my family will create many cherished memories here."
Lang Lang, the international pianist and United Nations Messenger of Peace, said his favorite Disney character was Capital Jack Sparrow, adding he is "looking forward to witnessing all the world-class entertainment" being offered at the resort.
Yao, the world-famous basketball player who comes originally from Shanghai, said: "I am happy and proud to have such a resort in our city, where people can experience an unforgettable time with family and friends."
Ben Cavender, principal at China Market Research Group, said the three ambassadors offered just the right image for Disney, as the resort is trying to appeal to both kids and adults.
"They are a good mix, from musical, cultural and sports backgrounds, and give people a clear idea of what is likely to be offered at the new site."
Wang Jing, the mother of a 5-year-old boy, from Beijing, said she felt the three ambassadors would attract parents who are hoping their children will grow up to achieve similar in the future.
"They are great role models for young people to learn from," said Wang.
The Shanghai site is a joint venture between The Walt Disney Company and Shanghai Shendi Group comprised of two owner companies.