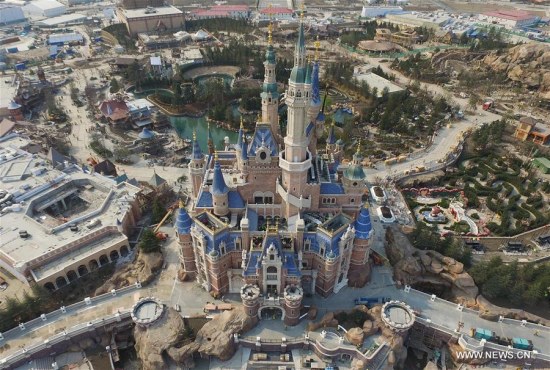 Aerial photo taken on March 27, 2016 shows a general view of Shanghai Disney Resort in east China's Shanghai. Shanghai Disney Resort will officially open and welcome its first guests on June 16. Tickets went on sale on March 28. (Xinhua)
Tickets for Shanghai Disneyland, Disney's first theme park on the Chinese mainland, went on sale on Monday, about two and a half months ahead of the resort's opening on June 16.
By 5 p.m., more than 35,600 one-day passes and 12,000 two-day passes had been sold through the official sales channel on online marketplace Tmall.
That is one of a number of sales channels, also including third-party retailers.
Ctrip, China's largest online travel agent, reported that most of its ticket orders were coming from the cities of Shanghai, Beijing, Guangzhou, Nanjing and Hangzhou.
A customer at a high-street travel agency in Shanghai said she came to the store to buy tickets after failing to get them online. "But the staff just suggested I buy the tickets online, so I'll just have to go home and refresh the websites more frequently."
The regular price of admission is 370 yuan (around 57 U.S. dollars). Peak pricing for holidays and weekends, is 499 yuan, and this will apply from the opening until June 30.
Tickets are date-specific and provide access to all attractions and entertainment.
Children under 1.4 meters tall, over-65s and guests with disabilities are entitled to a 25-percent discount. Infants under 1 meter tall are admitted free. Two-day tickets are available at a 5-percent discount.
The Shanghai Disney Resort is Disney's sixth resort worldwide. Construction began in 2011 in Pudong New District.