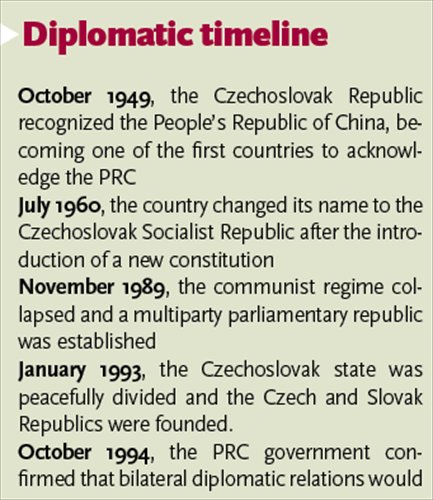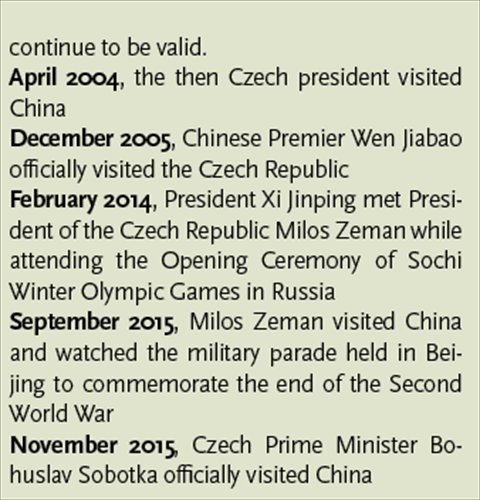 Chinese President Xi Jinping is to kick off an official visit to the Czech Republic on Monday, the first Chinese top leader to visit the country since the two established diplomatic relations 67 years ago, when the Czech Republic was part of Czechoslovakia.
Many expect the visit will bring the two countries closer together, and the days of ideological frictions and issues concerning Taiwan and the Dalai Lama will be set aside.
Not only on the national level, the development of bilateral relations has been reflected in people's lives. The stories of Czech families and their emotional attachment with China depict two countries that are getting to know each other better.
The He family
Zdenek Hrdlicka, also known as He Zhida, has family links with China spanning four generations. His grandfather, known in Chinese as He Deli, and grandmother, He Dejia, were both famed sinologists and their names were given to them by Guo Moruo, a well-known Chinese writer and historian.
In April 1949, Guo visited the Czech Republic with China's cultural delegation and was befriended by He Deli and He Dejia. In 1950, He Deli became the first cultural counselor for the Czechoslovakian embassy in China. The couple bought hundreds of books during their stay in the country, which later became the start of the Lu Xun Library at the Czech Republic's Academy of Science.
Their son, He Huasheng, was also born during this period and they gave him his Chinese name. At that time, famous Chinese painter Qi Baishi even sent the newborn a painting.
Growing up under the influence of his grandparents, He Zhida chose sinology as his major at university and went to Nanjing to learn Chinese at his own cost. There, he met Zheng Minjia, a Chinese girl who later became his wife.
Now the couple have three children, whom they bring to China every summer holiday so they can learn Chinese and get familiar with the culture.
He Zhida played in a band at college and sang Chinese rock songs. The band has performed many times in China and still performs every year. His master's degree thesis mixed literature and music also, titled The Connection between Folk Songs in Ming and Qing Dynasties and the Chinese Culture in the 19th Century.
After graduation, He Zhida did many jobs related to translation. In 2014, he visited China as Czech President Milos Zeman's translator. As the relation between China and the Czech Republic is getting increasingly closer, he's putting all his energy into the translation between Chinese and Czech. He said he feel proud to be connected to China.
A drink for Sino-Czech friendship
"Let's drink for the friendship between China and the Czech Republic," Ladislav Salal, president of the Sino-Czech Economic Cooperation Association said right after the People's Daily reporter sat down, taking out a bottle of wine and two small cups.
"It is a Czech liquor similar to erguotou (a kind of Chinese liquor) in China, but it is not so hot. Still, it will burn your stomach," he explained. The reporter had a sip and decided to put it down, but he barred the way, saying, "You coming here is just like going back home. As a family we must drink this cup." He then emptied his glass, and the reporter followed suit.
Born in 1930, Salal was sent to study in China in 1952 and he studied Chinese at Peking University. From 1958 to 1962, Salal was the economy commissioner at the Czechoslovakian embassy to China. In the following years, he went to China many times, leading the Czechoslovakian economic delegation.