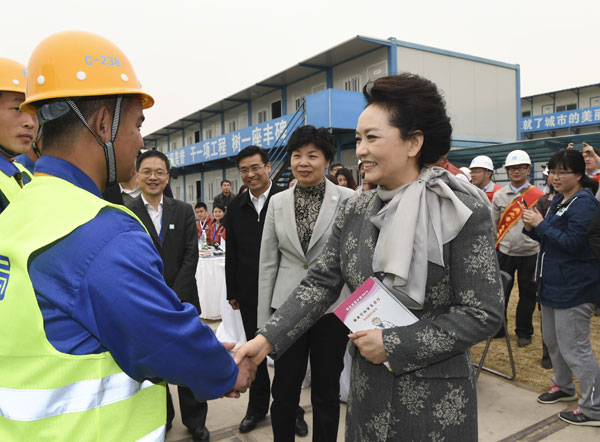 Peng Liyuan, China's first lady and the World Health Organization's goodwill ambassador for tuberculosis and HIV/AIDS, greets a migrant worker in Beijing on March 22 at a publicity event ahead of World Tuberculosis Day, which falls on March 24 each year. (Photo provided to China Daily)
Tuberculosis has been declining in incidence and fatality in China, but it still has a high prevalence, a senior health official said.
Wang Bin, deputy director of the disease prevention and control bureau of the National Health and Family Planning Commission, made the remarks at a news conference on Wednesday ahead of World TB Day, which falls on March 24.
On Tuesday, China's first lady Peng Liyuan visited construction workers in Beijing to promote TB prevention and treatment.
Peng, a well-known Chinese soprano, was appointed as WHO goodwill ambassador for tuberculosis and HIV/AIDS in 2011.
Her efforts promoting public health date back 10 years. In China, she became the health ambassador for HIV/AIDS prevention for the Ministry of Health in January 2006 and the national ambassador for TB control and prevention in March 2007.
The incidence rate declined to 63.4 per 100,000, compared with 71.1 per 100,000 in 2011. The mortality rate dropped by 23 percent during the same period, said Wang, who cited a nationwide TB surveillance network.
Between 2011 and 2015, China reported 4.27 million TB cases, and 1.6 million were highly contagious.
Populations such as students and migrant workers are relatively susceptible due to their living environments, Wang added.
To curb the disease, the central government has earmarked 3.06 billion yuan ($471 million) in the past five years for TB control and prevention.
The treatment for TB is highly subsidized, with that for common TB virtually free of charge, said Li Liang, a veteran TB specialist in Beijing.
But efforts need to be further enhanced, particularly with the multidrug-resistant TB, or MDR-TB.
The WHO's 2015 Global TB Report said only three in 10 TB patients in China receive proper laboratory diagnosis, and five in 100 of all estimated MDR-TB patients are reported to receive proper treatment.