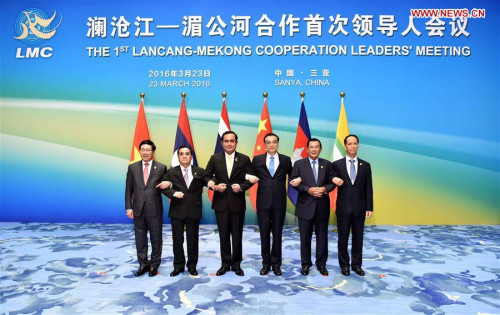 Chinese Premier Li Keqiang (3rd R) poses for a group photo with Thai Prime Minister Prayuth Chan-ocha (3rd L), Cambodian Prime Minister Hun Sen (2nd R), Lao Prime Minister Thongsing Thammavong (2nd L), Vice President of Myanmar Sai Mauk Kham (1st R), and Vietnamese Deputy Prime Minister Pham Binh Minh (1st L) before the 1st Lancang-Mekong Cooperation Leaders' Meeting in Sanya, south China's Hainan Province, March 23, 2016. (Xinhua/Li Tao)
China plans to provide loans and credit to support the infrastructure development in countries along the Lancang-Mekong River, Premier Li Keqiang said on Wednesday.
China will offer concessional loans of 10 billion yuan (1.54 billion U.S. dollars) and credit lines of up to 10 billion U.S. dollars to fund infrastructure and improve connectivity in Cambodia, Laos, Myanmar, Thailand, Vietnam and China, according to Li.
Five billion U.S. dollars in loans will be specifically dedicated to industrial production capacity cooperation between China at the upper reach of the Mekong (known as Lancang in the Chinese stretch) and the five Southeast Asian countries at the lower reaches.
The plan was announced at the first leaders' meeting of Lancang-Mekong Cooperation, which gathered leaders from the six countries in Sanya of Hainan Province in south China on Wednesday. Premier Li and Thai Prime Minister Prayut Chan-o-cha cochaired the meeting.
Aimed to bridge the gap between different countries and support building of the ASEAN community, the leaders agreed their practical cooperation will start with the priority fields of connectivity, production capacity, cross-border economic cooperation, water resources, agriculture and poverty reduction.
"With strength in industry, cost-effective equipment and products, China has the capacity to help the five Southeast Asian countries move a step forward in industrialization," Li said.
The Chinese premier called for progress in major projects, like China-Laos and China-Thailand railway cooperation, building China-Myanmar land and water lanes and economic zones on border regions.
China and Thailand launched an 845-km railway project linking the Thai capital Bangkok with the northeastern city of Nong Khai near Laos, part of a Pan-Asia railway network, in late 2015.
The China-Laos railway from Mohan-Boten to Vientiane will be the first overseas route that connects Laos with the vast railway system in China, using Chinese technology, equipment and investment.
Li proposed more cooperation in engineering, electricity, building materials and telecommunications, saying China will promote the Asian Infrastructure Investment Bank (AIIB) and Silk Road Fund to back infrastructure building in the region.
The Chinese yuan, or RMB, has been admitted by the International Monetary Fund into the currency basket of the Special Drawing Rights, Li said. "RMB exchange rate will be basically stable at a reasonable and balanced level for a long term."
He called for more use of RMB in promoting sustainable development, production capacity cooperation and poverty reduction. China will expand the settlement in local currency in its trade and investment with the five countries and improve cross-border RMB clearing arrangement, he said.
China proposed to set up a center on water resources and environmental cooperation to enhance technology, human resources and information exchange, which was welcomed by the five Southeast Asian countries.
Prayut said sustainable water resources development is a key component for Lancang-Mekong Cooperation, and the center, if established, will bring tangible benefits to the people.
China earlier announced emergency water discharge from a dam between March 15 to April 10 to help alleviate drought in countries in the lower stretches of Mekong. The five countries thanked China for its assistance, saying it demonstrates China's friendly policies to its neighbors.
China will balance the interests of countries in the upper and lower reaches, support the lower stream countries to improve their lives and help construction projects there, said the Chinese premier.
Describing the six countries as a "common community of shared interests and destiny," Li stressed fostering peace and security, proposing to establish a law enforcement and security cooperation center.
"China's development has brought opportunities for the five countries and common development and prosperity will create a sound neighborhood for China," said Lei Zhuning, a research fellow with the Yunnan Academy of Social Sciences.