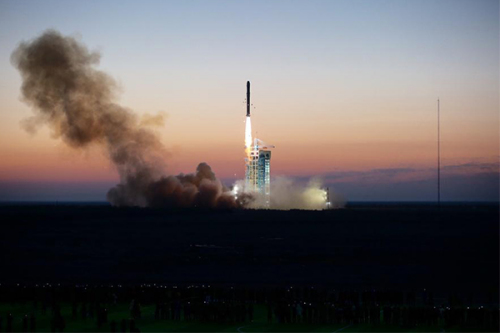 Carrier Long March 2-D rocket blasts off at the Jiuquan Satellite Launch Center in Gansu province, Dec 17, 2015, sending into space the country's first Dark Matter Particle Explorer Satellite. (Photo/Xinhua)
China's first dark-matter detection satellite has completed three months of in-orbit testing, with initial findings expected to appear by the end of this year, according to the Chinese Academy of Sciences (CAS).
Dark Matter Particle Explorer (DAMPE) Satellite "Wukong" detected 460 million high energy particles in a 92-day flight, sending about 2.4 TB of raw data back to Earth, DAMPE chief scientist Chang Jin said.
Launched on Dec. 17, 2015 on a Long March 2-D rocket, "Wukong" was handed over to the CAS Purple Mountain Observatory on Thursday.
The four major parts of the payload - a plastic scintillator array detector, a silicon array detector, a BGO calorimeter, and a neutron detector - functioned satisfactorily. The satellite completed all set tests, with all its technical indicators reaching or exceeding expectations.
"Wukong" is designed for a three-year mission. It will scan space nonstop in all directions in the first two years and then focus on areas where dark matter is most likely to be observed in the third.