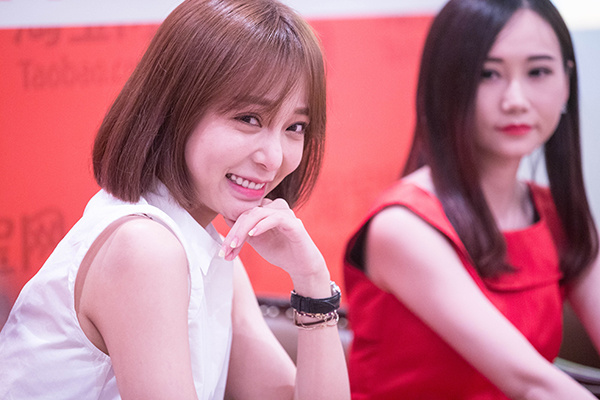 A snapshot of Internet celebrities. (Photo provided to China Daily)
Not long ago, YouTube star Michelle Phan wowed the beauty products market when she succeeded in setting up a personal cosmetics brand by just uploading makeup tutorials to YouTube.
To this day, her success is hailed as a testament to the power of the Internet.
Now, thousands of others are trying to emulate Phan in China. They boast huge online following. The ability to transfix eyeballs online, especially on social networking platforms, these days translates to celebrityhood and riches. In China, there are 688 million Internet users, so the knack of influencing even some of them could make one a "key opinion leader".
Such leaders are building up thousands of online communities by sharing knowledge on subjects like fashion, beauty and electronic games or just by producing humorous videos. In the process, they make loads of money.
The list below summarizes the key ways by which such cyber stars grow rich:
1. Tips and virtual gifts from fans
Most online platforms have introduced a "tips" system for fans to give cash to online celebrities. For example, when an online celebrity publishes a fashion-themed article on WeChat, China's most popular instant messaging tool, readers can reward the author with tips ranging from 1 yuan (15 cents) to 256 yuan by using its digital payment tool.
The tips system can bring a lot of cash, given that each article by online celebrities often generates more than 100,000 hits or visits.
For instance, Papi Jia, an online celebrity well known for making humorous videos, recently received tips from more than 3,500 fans because they loved her latest video post on WeChat.
Popular broadcasters on live-streaming platforms also derive income from viewers who buy virtual gifts for them, like digital flowers.
2. Advertising fees from luxury brands
Luxury brands such as Channel and Prada are turning to online celebrities for targeted marketing. When releasing latest products, these companies often invite online celebrities to advertise the products on Sina Weibo, China's version of Twitter.
"Compared with traditional fashion magazines, online celebrities have stronger bonds with us and I am more willing to accept their recommendations," said Liu Chang, a 28-year-old white-collar worker in Shenzhen, Guangdong province.
3. Profits from running online stores
Setting up a personal fashion brand is the most popular income source for most online celebrities. It is also the stream that pulls in the largest part of their income. One shining example is Zhang Dayi, 28. She has cultivated more than 4 million followers on Sina microblog. By regularly posting her store's fashion items and corresponding links on her Sina microblog account, Zhang successfully converted her online store on marketplace Taobao into a must-visit destination for female online shoppers. Her shop is listed as the second-best store in terms of sales in 2015 on Taobao, the consumer-to-consumer platform of Alibaba Group Holding Ltd.
A report from Guotai Junan Securities Co, one of China's largest investment banks, estimated that e-commerce stores run by Internet celebrities handled transactions worth more than 100 billion yuan in 2014, accounting for about one-sixth of the entire online clothing retailing market.
4. Appearance fees
Internet celebrities no longer limit their commercial activities to the online world. It is increasingly common for companies to pay them to attend offline gatherings like product launches and similar corporate events and celebrations.