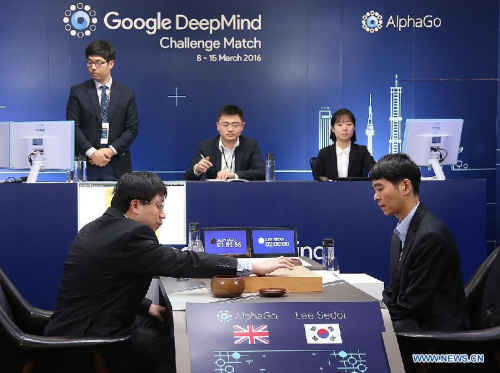 South Korea's Lee Sedol finally broke the myth of AlphaGo, the computer created by DeepMind, after losing three consecutive matches, rallying to win himself and humanity some dignity to beat the Google Artificial Intelligence (AI) program in Game 4 of five-game human vs. machine Go-chess showdown on Sunday. (Xinhua photo)
Google's Go-playing computer program AlphaGo on Tuesday ended a historic match of the ancient Chinese board game with Go grandmaster Lee Sedol of South Korea by taking a 4-1 lead with its fourth victory in the final match of the best-of-five series.
The final winner was already determined as Lee lost the first three games of the five-game match. AlphaGo got 1 million U.S. dollars in prize which will be donated to charities.
The human Go champion beat the artificial intelligence (AI), developed by Google's London-based AI subsidiary DeepMind, in the fourth match, but Lee was defeated once again in the final match.
Despite the sweeping victory, it is too early to say that AI has surpassed humans in Go because Lee fought AlphaGo with little known about the computer program, including a playing style and a strategy, one commentator said.
Only after analyzing AlphaGo's strategy sufficiently and holding a match once again between the AI and human Go players, it can be determined whether machines may surpass humans in the board game, the commentator said.
Lee and AlphaGo exchanged 280 moves for five hours, the longest among the five games that kicked off last Wednesday in Seoul. Lee displayed a fighting spirit to the last minute, but he eventually lost by a narrow margin.
The 33-year-old kept a tight game with the two-year-old computer program by the middle of the match, but a decisive moment came past halfway as AlphaGo succeeded in attacking the lower-left side
At the lower-left side, AlphaGo made questionable moves, which looked like blunders at the first sight, but those also proved to be a strategy to win more territory in hindsight.
Commentators said AlphaGo made excellent moves in the latter half of the game, proving its better capability to play as time goes on. Lee didn't make any big missteps during the game, experts said.