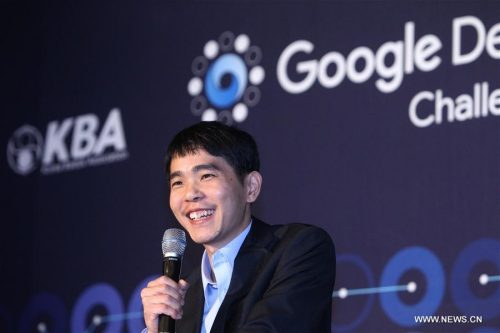 South Korean professional Go player Lee Sedol smiles at the press conference after the third round match of the Google DeepMind Challenge Match between Lee Sedol and Google's artificial intelligence program, AlphaGo, in Seoul, South Korea, March 13, 2016. Lee Sedol won the third round match Sunday. (Xinhua/Yao Qilin)
Go grandmaster Lee Sedol of South Korea and Google's Go-playing computer program AlphaGo on Tuesday started the final match of the century at the ancient Chinese board game.
The final match of the best-of-five series began at 1 p.m. (0400 GMT) at Four Seasons hotel in Seoul.
Lee, one of the greatest Go players who has won 18 world championships for 21 years of his professional career, won the fourth match after three straight losses to AlphaGo, a computer program developed by Google's London-based artificial intelligence (AI) subsidiary DeepMind.
Lee's first victory over AlphaGo indicated that the AI hasn't surpassed humans completely in Go, which had been regarded as the last game humans can dominate over machines due to its complex, intuitive and creative nature.
Playing black, Lee put his first two stones right beside flower spots in the right side, while AlphaGo placed its first two white stones in flowers in the left side.
After his first win on Sunday, Lee offered to play black stones, with which he believed AlphaGo displayed a relatively weak play.