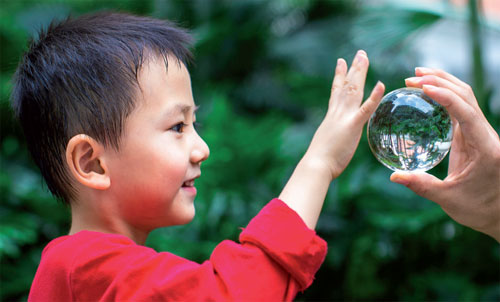 This young boy was one of the participants in the cataract study. He had cataract surgery at 6 months old and is now 2 years old. (Photo provided to China Daily)
Researchers in China and the United States have developed a new cataract treatment with stem cells that has restored vision in infants in a trial and may eventually be used in adults.
The treatment — by doctors and staff members at the University of California, San Diego School of Medicine and Sichuan and Sun Yat-sen universities in China — was published in the March 9 edition of the scientific journal Nature.
A cataract is a clouding of the normally clear lens of an eye. Typical cataract surgery involves the removal of the cloudy lens and the insertion of an artificial one.
The new surgery has been tested in animals and during a small, human clinical trial. It resulted in fewer surgical complications than the current invasive surgery, and in regenerated lenses with superior visual function in all 12 of the pediatric cataract patients who underwent the procedure.
A congenital cataract — lens clouding that occurs at birth or shortly after — is a significant cause of blindness in children.
In the new research, Kang Zhang, head of ophthalmic genetics at UC San Diego's Shiley Eye Institute, and his colleagues relied on the regenerative potential of endogenous stem cells.
According to Zhang, endogenous stem cells are present in the body. They are different from other stem cells that are typically grown in a laboratory, transplanted into a patient, and can have risks of immune rejection, infection or tumor formation.
Zhang told CBS News, "We devised a new surgery to make a very small opening at the side of a cataractous lens bag, remove the cataract inside, allow the opening to heal, and promote dormant lens stem cells to regrow an entirely new lens with vision."
The human trial involved 12 infants under the age of 2 who were treated with the new method, while 25 infants received the standard surgical care.
The latter group experienced a higher incidence of post-surgery inflammation, early-onset ocular hypertension and increased lens clouding.
The scientists reported fewer complications and faster healing among the 12 infants who underwent the new procedure.