Google's computer program AlphaGo on Saturday took a 3-0 lead as it won the third consecutive game in a historic five-game match with South Korean Lee Sedol, the world's champion of the ancient Chinese board game.
After exchanging 176 moves for more than four hours with AlphaGo, a computer program developed by Google's London-based artificial intelligence (AI) subsidiary DeepMind, Lee resigned from the match as the computer program maintained an unassailable lead.
It marked the third consecutive victory of AlphaGo in the five-game match, which kicked off on Wednesday and would last until next Tuesday. The next game will be held on Sunday in Seoul.
About 1 million U.S. dollars in prize will be given to AlphaGo's developer, which will donate it to charities, regardless of whether Lee wins the two remaining games or not.
Lee, one of the greatest Go players who has won 18 world championships for 21 years of his professional career, turned aggressively in a strategy after his losses in the first two games.
The 33-year-old champion allegedly analyzed AlphaGo's moves all night after the second loss along with his South Korean professional Go players, deciding to play his own style.
AlphaGo, however, defended his aggression almost completely, maintaining its large groups of white stones in the lowest end of the board into which Lee invaded as the last winning move.
One commentator said AlphaGo proved to be strong based on the latest three matches with Lee, while another commentator said AI turned out to have surpassed humans in the Chinese board game.
Go, known as weiqi in China and Baduk in South Korea, originated from China more than 2,500 years ago. It involves two players who take turns putting markers on a grid-shaped board to gain more areas on it. One can occupy the markers of the opponent by surrounding the pieces of the other.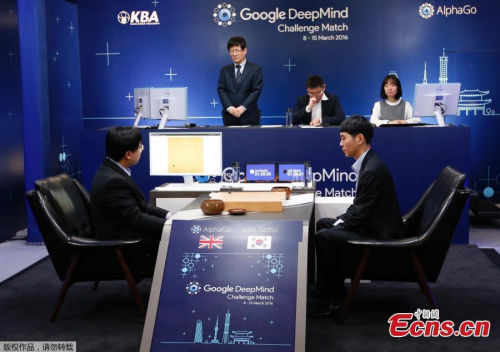 South Korean Lee Sedol, the world champion of the ancient Chinese board game Go, turned aggressive in his strategy for the third of a historic five-game Go match with Google's computer program AlphaGo after his successive losses in the first two games.