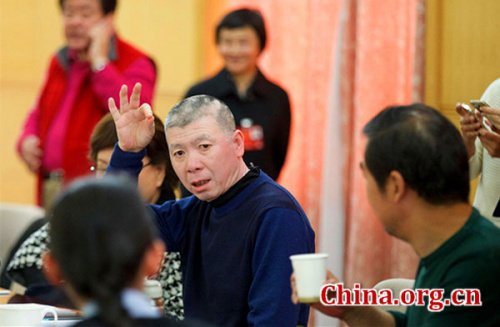 Feng Xiaogang, a director and member of the 12th National Committee of the Chinese People's Political Consultative Conference (CPPCC), speaks at a meeting during the ongoing annual session of the top political advisory body on March 7, 2016 in Beijing. (Photo: China.org.cn/Wu Wenda)
Director Feng Xiaogang said he would found a school to train professional technicians for China's booming film industry.
Feng, also a member of the 12th National Committee of the Chinese People's Political Consultative Conference (CPPCC), is attending the annual session of the top political advisory body which runs until March 14. [Special coverage]
In his opinion, though the industry is developing aggressively and is expected to surpass the United States in 2017 as the biggest film market, the industry is still a long way from Hollywood production quality and is weak when it comes to professional technicians. "In current film schools and academies, only actors, directors and script writers are educated and trained," he said. "But for other categories of workers, they never have the chance."
When shooting a film, said Feng, most other working posts, including props, lighting, costumes, make-up and others are occupied by migrant workers. "We don't have prop persons who have received professional education. When you want to set up a movie set, if the prop workers haven't seen the prop before, they can't make it. Usually, in a Chinese film crew, 90 percent of them are amateurs and have had no professional training and have only rough experience in the industry. But when they go into a new film crew, they have to get trained again or they can't make things the film creators want."
Feng said China will make 700 - 800 films a year, which means even for one working post, the films can provide 700 - 800 jobs a year. For the television industry, more than 30,000 episodes will be made annually. Combining all the films, TV series, other shows and programs, China will have nearly 4,000 film crews in total during a single year. If a crew needs 100 such technicians, this means there will be roughly 400,000 jobs.
Feng said he made millions from films and he would repay this "debt" to society. So, with actors Jackie Chan and Zhang Guoli, both of whom are also CPPCC members, they decided that they would launch a movie technician school next year, inviting Hollywood professionals to be teachers. "We can work out the most basic problems of the film industry, while educating and training professional talents. It will help to resolve the employment issue while providing talent for hundreds of thousands of jobs. Meanwhile, this will improve the Chinese film industry's professional level."