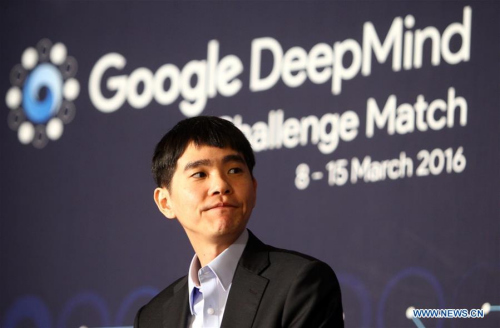 South Korean professional Go player Lee Sedol reacts during the press conference after lossing the second round match of the Google DeepMind Challenge Match against Google's artificial intelligence program, AlphaGo, in Seoul, South Korea, March 10, 2016. (Xinhua/Yao Qilin)
By beating a top professional Go player twice in a five-game contest of Go, Google's AlphaGo program is on track to achieve a major milestone in artificial intelligence (AI). But does that mean computers are now smart enough to beat us in everything? Experts say that is obviously not the case.
South Korean Lee Se-dol is considered the most successful Go player in the past decade. But just after two games of the machine-vs-human Go series, AlphaGo has already gained the upper hand -- it only has to win once more to claim victory. The odds are in machine's favor.
AlphaGo's victory "seems very likely now," said Felix Hill, an AI researcher at the University of Cambridge's Computer Laboratory.
"Once it is clear that the computer is capable of playing at a higher level than the human, I think it's unlikely that it is actually performing at a slightly lower level, that the first victory was an outlier and that the human will win more games in the long run," he told Xinhua. "It is much more likely that the average performance of the computer is higher than the level of the human, and therefore that it will continue to win almost all of the time."
Another AI expert also believes that computer can learn to play Go, the ancient Chinese board game, at "an amazing level."
"We can compare AlphaGo to DeepBlue, the computer program that beat Gary Kasparov in chess in the 90s: It is a computer program that can solve one particular task very well -- way better than humans," said Dr Marc Deisenroth, who is a lecturer in statistical machine learning in the Department of Computing at Imperial College London.
In Go, two players take turns to place tiles on a board, trying to gain territory by arranging their tiles in strategic shapes or patterns. It sounds simple, but there are trillions of possible moves.
Pitching computers against human in various games, including Go and chess, seems to be a popular way to test what scientists and engineers have achieved in the sphere of AI.
And computers have done a good job by far. In 1997, IBM's Deep Blue defeated world champion Garry Kasparov. Then the company's Watson won the Jeopardy competition against the best human players. In October 2015, AlphaGo beat the European Go champion, an achievement that was not expected for years. Go was described as "the only game left above chess" by Demis Hassabis, CEO of DeepMind, Google's AI arm that designs AlphaGo. Now, there is a big chance that computers will conquer Go by defeating human champion player.