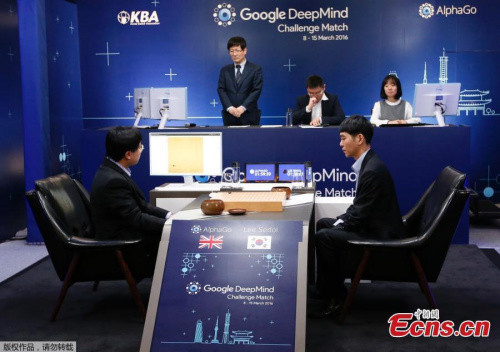 South Korean professional Go player Lee Sedol, right, puts a stone against Google's artificial intelligence program, AlphaGo, as Google DeepMind's lead programmer Aja Huang, left, sits during the match in Seoul on Wednesday.(Photo/Agencies)
Google's computer program AlphaGo on Thursday defeated South Korean Lee Sedol, the world champion of the ancient Chinese board game, taking a 2-0 lead in a historic match between a human and artificial intelligence (AI).
Lee resigned about four and a half hours after the second match kicked off at 1 p.m. local time (0400 GMT) at Four Seasons hotel in Seoul.
After exchanging 211 moves with AlphaGo, the 33-year-old accepted his second loss. During the first face-off on Wednesday, Lee resigned an hour earlier after trading 186 moves.
It was a shock to Go fans and experts as Lee, one of the greatest Go players who has won 18 world championships, was beaten for the second time in the historic five-game match that is seen as a representative match between humans and artificial intelligence.
Lee should win all of the three remaining games that will last until next Tuesday. The next match will be held at the same venue on Saturday.
AlphaGo played in an incomprehensible and anomalous manner, which commentators said could be mistakes or algorithm errors at first sight, but it proved that those moves must have been intentional and pre-calculated ones from a broader perspective, which they said humans can never imagine.
AlphaGo started off with anomalies. Playing Black, the computer program put its starter at the upper-right flower spot. In turn, Lee also placed his first white stone at a flower.
About one and half minutes later, AlphaGo put the third marker at a position beside the flower spot, an unconventional move different from the previous day's strategy. AlphaGo placed its first two pieces on the flower spots on Wednesday.
Exchanging conventional moves with each other, AlphaGo put its 13th marker at an anomalous position in the middle of the upper board, which a commentator said was a move he had never seen in the human world of the game.
Lee"calmly"responded to AlphaGo's anomalous moves in an early phase, which one commentator regarded as perhaps mistakes, leading the game in his slight favor.
Another commentator said Lee seemed to have regained confidence as he returned to his regular style of playing after exchanging conventional moves with the computer program earlier in the game.
However, Alphago took counterattacks at the middle areas of the white built up by Lee, rattling his emotional calmness. In exchange for part of the areas, the human Go champion won a smaller part of the black stones set by AlphaGo.
Lee seemed to have been slightly dominating by the middle of the match, but the mood was abruptly overturned as AlphaGo's mistakes began to be regarded as intentional moves from a broader perspective.
At the first sight, AlphaGo made two fatal mistakes, which commentators described as algorithm errors and incomprehensible. The result was unpredictable until near the end due to the incomprehensible moves, which commentators said humans cannot imagine.
It proved that AlphaGo's choices, which seemed to have been mistakes at the first sight, were right and calculated ones based on its predicted final result.
AlphaGo's moves may look like mistakes from humans' perspectives and according to ways that professional human players learned how to play Go, but the result showed AlphaGo's broader perspective only aimed at winning an entire game despite losses in some parts of the board, experts noted.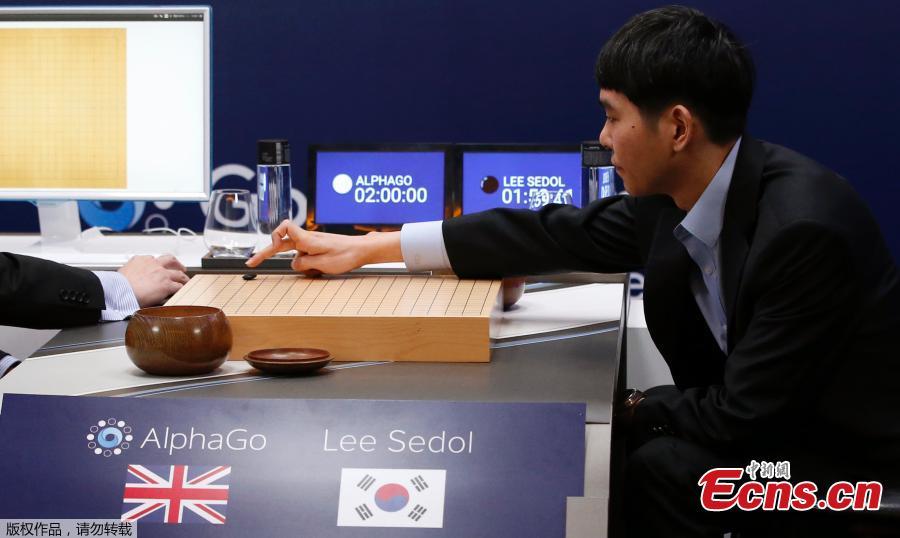 AlphoGo, the computer created by DeepMind, the Artificial Intelligence (AI) arm of Google, defeated world champion Lee Sedol of South Korea Wednesday in Game One of human vs. machine Go-chess showdown. The result is out of the expectations of many, including China's Go grandmaster Ke Jie, but Ke put it clear "AlphaGo is not in my match now".