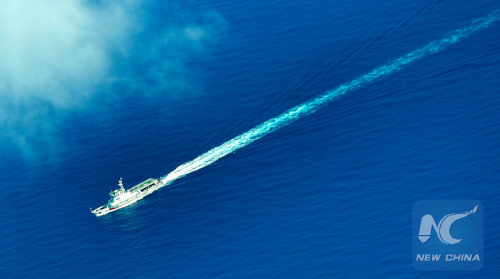 An aerial photo taken on Sept. 25, 2015 from a seaplane of Hainan Maritime Safety Administration shows cruise vessel Haixun 1103 heading to the Yacheng 13-1 drilling rig during a patrol in south China Sea. (Xinhua/Zhao Yingquan)
Chinese netizens believe that the South China Sea issue may become the biggest challenge for Chinese diplomacy in 2016, a survey has found.
Xinhua International and toutiao.com jointly conducted a survey on Chinese diplomacy among Chinese netizens on Monday and Tuesday.
On the question of "Which issue will most test the wisdom of Chinese diplomacy?" Forty-three percent of the respondents chose the South China Sea issue, 32 percent chose China-U.S. relations, 17 percent chose the Korean Peninsula nuclear issue and 8 percent chose the tracking of corrupt officials overseas.
The Chinese netizens' viewpoint coincides with that of their overseas counterparts.
Xinhua's social media account New China on Monday also carried out a survey about the press conference of Chinese Foreign Minister Wang Yi, in which overseas netizens said they cared most about the South China Sea issue.
At the press conference held Tuesday on the sidelines of the ongoing session of China's National People's Congress, Wang said that the Nansha Islands have been China's inherent territories and all Chinese descendants have the obligation to defend them.
Any attempts to disturb the South China Sea and destabilize Asia would not be allowed by China and most other countries in the region, he said.
In his speech delivered at the U.S. Center for Strategic and International Studies on Feb. 25, Wang said the current situation in the South China Sea remains stable on the whole and navigation safety and freedom of passage in the area has never been affected.
China holds that resolving differences through dialogue and negotiation is the most important factor in ensuring the stability of the South China Sea, he said.
The Xinhua International-toutiao.com survey also asked netizens "What event impressed you most in 2015?" Half of the respondents chose the military parade at Tiananmen Square on Sept. 3 and the V-day diplomacy.
On Sept. 3, 2015, China held a military parade marking the 70th anniversary of the victory of the Chinese People's War of Resistance Against Japanese Aggression and the World Anti-Fascist War. Twenty-three heads of state and government watched the parade.
On the question of "What diplomatic event do you pay most attention to?" Fifty-seven percent chose "promoting major-country diplomacy, safeguarding sovereignty, security and development."