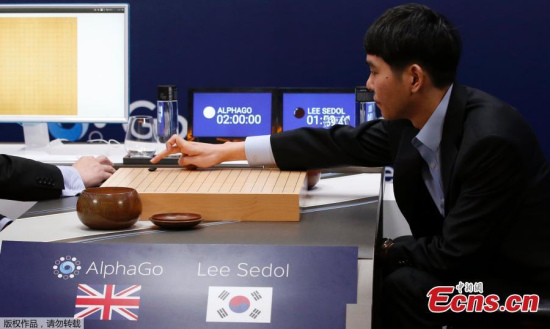 South Korean professional Go player Lee Sedol puts a stone against Google's artificial intelligence program, AlphaGo, as Google DeepMind's lead programmer Aja Huang sits during the match in Seoul on Wednesday.(Photo/Agencies)
Artificial intelligence (AI) unexpectedly defeated the world human champion of the ancient Chinese board game Go in the first of their five-game match held in Seoul on Wednesday, drawing worldwide attention on the human versus machine showdown.
South Korean Lee Sedol, one of the greatest Go players who has topped the world ranking for most of the past decade, was shockingly beaten by AlphaGo, a computer program developed by Google's London-based AI subsidiary DeepMind.
AlphaGo took the world by surprise after beating European Go champion Fan Hui by 5-0 in October last year and even defeated the world champion though four games are left, a result out of widespread expectations among Go experts.
Go enthusiasts had hoped it would take years, or perhaps decades, for AI to triumph over the best human players, but it's now evident that AI technology is much more advanced than many have expected.
The "match of the century" drew great attention from across the world, with hundreds of local and foreign journalists from China, South Korea and Japan as well as the United States and European countries gathering at the Four Seasons hotel in central Seoul.
During a press conference in Seoul a day before the opening match, Lee lowered confidence in his victory as AlphaGo seemed to have improved its intuitive power. Go had been viewed as the last game humans can dominate over AI due to its intuitive nature and complexity.
Demis Hassabis, CEO of the DeepMind, told the press conference on Tuesday that AlphaGo has made many upgrades since the game with Fan Hui in October 2015, based on which many experts predicted Lee's sweep victory.
AlphaGo won the opening match, taking a 1-0 lead in the five-game match that will run through next Tuesday. The next game will be held at the same hotel in Seoul from 1 p.m. (0400 GMT).
Lee and AlphaGo played a tight game by the middle of the match, but the 33-year-old resigned when it became clear that the computer program had taken an unassailable lead.
Playing black, Lee put his first position in the right flower spot, and about one and a half minutes later, AlphaGo placed its first marker in the left flower. One of DeepMind developers put AlphaGo's markers on the board, shown through Internet broadcasting, on behalf of the computer program.
From the very beginning, Lee played anomalously by placing his fourth marker at an irregular position, which a commentator said it was the first anomaly he has ever seen from the South Korean Go professional.