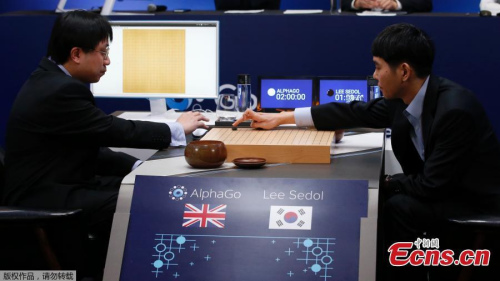 South Korean professional Go player Lee Sedol, right, puts a stone against Google's artificial intelligence program, AlphaGo, as Google DeepMind's lead programmer Aja Huang, left, sits during the match in Seoul on Wednesday.(Photo/Agencies)
As artificial intelligence (AI) program AlphaGo beat the world human champion of Chinese board game Go for the first time on Wednesday, deputies in the Great Hall of People in Beijing are discussing how smarter machines can shape the future of China. [Special coverage]
Though only in the first of the five-game match, the victory is heartening news for those lobbying for greater government support for AI technology at the "two sessions," China's most important annual political event.
"Massive application of AI will take place in just three to five years ... China must seize this time," said Liu Qingfeng, board chairman of tech firm iFLYTEK Co. Ltd., at the session of the National People's Congress (NPC), to which he is a deputy.
Liu had predicted AlphaGo's triumph days ago to Xinhua, as he praised AI's calculation prowess. But the technology can do far more than that -- it will shape every aspect of China's future from home appliances to social services to industrial productivity, he said.
Liu's company, a pioneer in intelligent speech technology, develops voice interface products including one that rivals Apple's Siri. In his proposal submitted to the session, he advised the country set up national labs and pilot zones on AI to promote such technology.
Self-driving car, another commercially promising branch of AI technology, also drove its way into the proposal by Robin Li, CEO of search engine giant Baidu that has also announced plans to develop autonomous cars.
Using his capacity as a member of the Chinese People's Political Consultative Conference (CPPCC) National Committee, Li proposed making rules and regulations that adapt to the era of driverless cars.
"The government should roll out a top-down development plan and supportive financial policies to encourage Chinese car makers and Internet companies to collaborate," Li said.
The NPC and CPPCC sessions are a major time for making proposals to central policy makers, so this year's AI proposals are under closer watch as industry insiders expect the year 2016 would see greater governmental support on China's AI sector.
They have sensed favorable signals in November, 2015, when China included the development of AI terminals and industrial robots into its draft 13th five-year plans, which maps out China's economic and social development between 2016 and 2020. The draft is now being mulled at NPC.
WHY CHINA GOES FOR AI?
China has been promoting the robotics industry as it strives to upgrade its manufacturing sector and address the labor shortage, while industry observers say the national push for AI is also meant to prepare for a global competition in future technology.
"It has become a focal point in industrial competition, and it would be too late if we failed to lay out the industry now," said Yu Kai, who hosted Baidu's AI project before founding his own tech company Horizon Robotics.
"China has its own advantages, including a huge amount of big data," Yu said, pointing to Chinese tech companies' repository of data from health to voice information, needed by many AI systems.
But poor innovation, especially on technological applications, may be checking the country's AI ambition, Yu added.
The United States and the European Union have invested heavily into AI-related research and are relaxing legal restrictions to boost the industry.
Unlike previous rounds of technological revolution in which China had mainly played the role of a low-profit manufacturer, Chinese tech companies are now front runners in global AI research, and they can make big waves if the government gives timely support, according to Liu.
"What the country needs is a final torch (of government support) to fire up our global preponderance," Liu said.