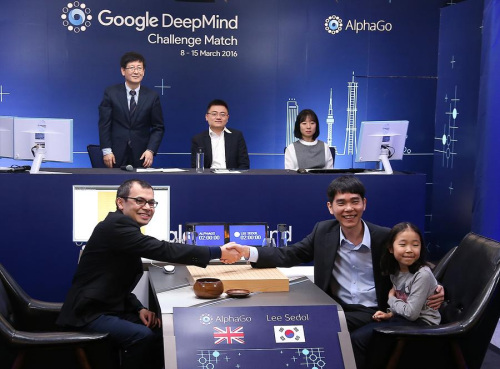 South Korea's Lee Sedol, the world's top Go player, right, together with his daughter, and Demis Hassabis, the CEO of DeepMind Technologies and developer of AlphaGO, pose for photographs ahead of the Google DeepMind Challenge Match in Seoul, South Korea, March 9, 2016. (Photo/Xinhua)
Areas outside the venue news for a "match of century" between human champion of the ancient Chinese board game Go and Google's computer program were bustling on Wednesday with people gathering for watch and journalists from around the world coming to cover the game.
South Korean Lee Sedol, world Go champion in the past 10 years, and AlphaGo, a computer program developed by Google's London-based subsidiary DeepMind, kicked off the first of their five-game match that will run through next Tuesday.
Kim Hyun-jin, wife of Lee Sedol, and their daughter Lee Hye-lim who came to Four Seasons hotel in central Seoul to watch Lee's match, were surrounded by lots of local and foreign journalists at the corner of the hotel while the match is going on.
Lee's wife told reporters at the venue that before the match, Lee said he regarded the game with AlphaGo as the same as others and he anticipated his first match with the computer program.
The match was played at the sixth floor of the hotel, with hundreds of local and foreign journalists gathering at press rooms installed temporarily.
About two hours before the start of the game, about 250 journalists gathered in the hotel to cover it, which is seen by many as a representative match between humans and artificial intelligence (AI).
At the VIP room, South Korean politicians and government officials watched the landmark match, including floor leader of ruling Saenuri Party, head of the main opposition Minju Party, Seoul Mayor Park Won-soon and other government officials.
AlphaGo defeated Lee in Wednesday's match, despite widespread expectations that Lee would win.