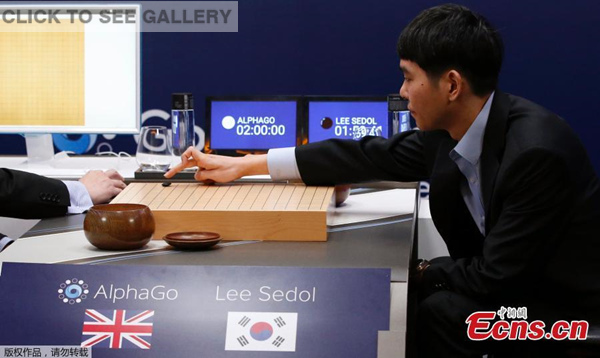 South Korean professional Go player Lee Sedol puts a stone against Google's artificial intelligence program, AlphaGo, as Google DeepMind's lead programmer Aja Huang sits during the match in Seoul on Wednesday.(Photo/Agencies)
Both human champion of the ancient Chinese board game Go and Google's computer program have played aggressively in the middle of a "match of century," commentators said Wednesday.
South Korean Lee Sedol, world Go champion in the past 10 years, and AlphaGo, a computer program developed by Google' London-based subsidiary DeepMind, kicked off the first of their five-game match that will run through next Tuesday.
Lee put his first position in the right flower spot, and about one and half minutes later, AlphaGo placed its first marker in the left flower. One of DeepMind developers put AlphaGo's markers on the board, shown through Internet broadcasting, on behalf of the computer program.
From the very beginning of the match, Lee played anomalously by placing his fourth marker at an irregular position, which a commentator said it was the first anomaly he has ever seen from the South Korean Go professional.
AlphaGo responded "calmly" to the anomaly, playing aggressively to Lee who in turn took counterattacks against the algorithm, the commentator said.
By the middle of the game, it was still hard to predict who would be the winner of the match of the century, who will get 1 million U.S. dollars in prize. If AlphaGo wins, the prize will be donated to charities.
AlphaGo took the world by surprise by defeating European Go champion Fan Hui by 5-0 in October last year. Some of experts had predicted it would take at least decades of years for artificial intelligence (AI) to defeat humans at the ancient Chinese board game.
AI has long surpassed humans in other games like chess, but Go has been viewed as the last game, in which computers cannot beat humans in a near future due to its complexity and intuitive nature.
Lee has won world Go champions 18 times in the past 11 years, recording a winning rate of about 70 percent with 47 victories in professional matches. AlphaGo has recorded a 99.8 percent winning rate with 504 victories and only one defeat.