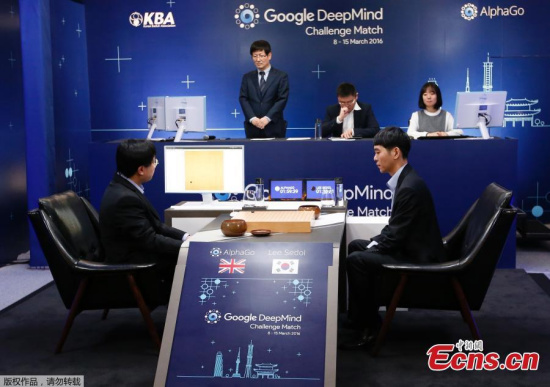 South Korean professional Go player Lee Sedol, right, puts a stone against Google's artificial intelligence program, AlphaGo, as Google DeepMind's lead programmer Aja Huang, left, sits during the match in Seoul on Wednesday.(Photo/Agencies)
U.S.-based Internet search engine Google is expected to enjoy great promotional effects from a "match of century" between human champion of the ancient Chinese board game Go and Google's computer program AlphaGo.
The match is also forecast to help Go, known as Weiqi in China and Baduk in South Korea, gain popularity in Western countries as well as in Asia.
The first of the five-game match kicked off on Wednesday in Seoul between South Korean Lee Sedol, the world Go champion in the past 10 years, and AlphaGo, developed by Google's London-based subsidiary Deepmind.
The match is scheduled until next Tuesday, drawing a great attention from new organizations, Go fans and even the general public around the world. The match is being broadcast live on various Internet TVs and websites, including Google-owned YouTube.
Google allegedly has invested about 2 million U.S. dollars, including 1 million dollars in prize, for the landmark event that is widely seen as a representative match between humans and artificial intelligence (AI).
The U.S. Internet search engine is expected to enjoy promotional effect worth at least 100 million dollars in consideration of worldwide attention and news media reports from Western countries as well as Asian nations, according to estimates by South Korean advertising companies.
Even if AlphaGo loses in the match as many predicted, its developer DeepMind may gain reputation as one of the world's leading AI companies. AlphaGo boasts of its deep learning, a capability of learning to discover new strategies for itself by playing thousands of games between its neural networks and adjusting connections by use of a trial-and-error process known as reinforcement learning.
The world AI market is forecast to grow to nearly 2 trillion dollars by 2025, expanding its application to various fields such as healthcare, disease analysis and even legal advice.
The match between Lee and AlphaGo is projected to help the Chinese board game gain popularity in Western countries as well as in Asia given that hundreds of journalists from China, South Korea and Japan as well as the United States, Germany and Britain came to Seoul to cover the match.
Go originated in China more than 2,500 years ago. It involves two players who take turns putting markers on a grid-shaped board to gain more areas on it. One can occupy the markers of the opponent by surrounding the pieces of the other.