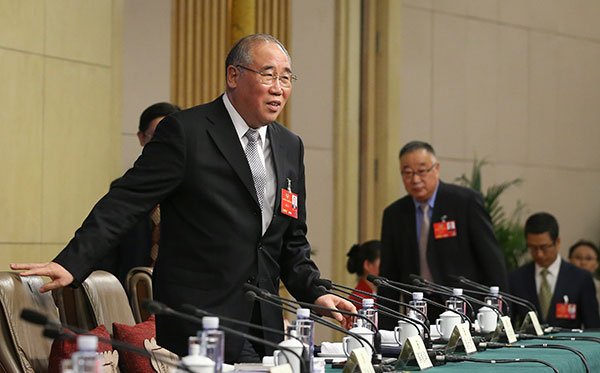 Xie Zhenhua, China's special representative on climate change, takes his seat at a news conference on the sidelines of the two sessions on Monday. KUANG LINHUA/CHINA DAILY
Greenhouse gas plan calls for more sustainable energy, greater efficiency and expanded forests
China's greenhouse gas emissions are likely to peak by 2030 or perhaps earlier, instead of having reached that peak in 2014 as some studies have suggested, the country's special representative on climate change said on Monday. [Special Coverage]
"It is reasonable for China to set the peak target for around 2030 and we will try our best to achieve it a bit earlier," said Xie Zhenhua, who also serves as a national political adviser.
China appeared to hit a carbon dioxide emissions peak in 2014, and the level then fell in 2015, according to a study by the Grantham Research Institute on Climate Change and the Environment and the ESRC Centre for Climate Change Economics and Policy at the London School of Economics, according to a report from Reuters.
But Xie said he has noted that several agencies have recently issued reports concluding that the global emission of carbon dioxide has stopped growing because of a weak world economy and efforts taken by many countries in 2015, and that China was a major factor.
"But we did not reach the peak in 2014," Xie said at a news conference of the National Committee of the Chinese People's Political Consultative Conference on Monday.
The Intended Nationally Determined Contribution of China creates a timetable that calls for reaching the peak around 2030, with an effort to try to make it happen earlier, taking into account the needs of industrialization and urbanization, Xie said.
China plans to complete that industrialization by 2020 and its urbanization drive, and population growth are both likely to be stable by around 2030, he said.
To achieve the peak as planned, China has taken a series of steps to slow down the growth of emissions, especially by promoting sustainable energy, he said, adding that the country has installed about 25 percent of the sustainable energy capacity worldwide.
In addition, China will continue to increase energy efficiency, develop nonfossil fuels, expand forests and adjust its industrial structure.
Energy from nonfossil fuels will account for a larger share of consumption by 2020, which should increase to account for 15 percent of the national energy mix, up from 12 percent in 2015, a binding target listed in the 13th Five-Year Plan.
In addition, in the coming five years, the country will see an 18 percent reduction in carbon intensity, Xie said. This refers to carbon dioxide emissions per unit of GDP in 2020 as compared to the level in 2015.