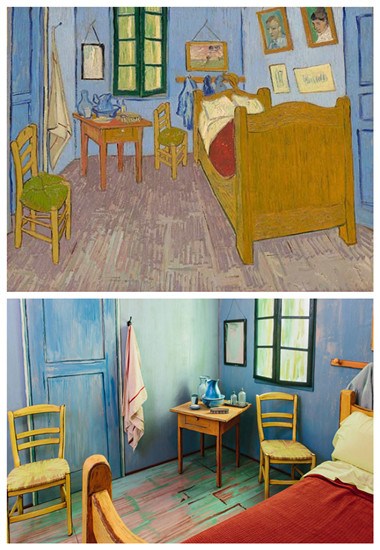 Van Gogh's 'Bedroom' vs. Van Gogh's 'Bedroom' recreated for AirBnB apartment (Photo/CCTV.com)
Have you ever wanted to live in a painting? Well now you can! Vincent Van Gogh's bedroom is available for just 10 bucks a night! It's the bright idea of the Art Institute of Chicago, which has decorated a one-bedroom apartment to look just like Van Gogh's famous painting of his room in the south of France.
Van Gogh's bedroom, a painting so enticing you feel you could step right into it. And now you can, for this is a life-size replica of his iconic work, available for the public to stay in.
The room in Chicago's River North neighbourhood is listed on Airbnb, as if the artist himself were renting it. Guests even receive a letter, supposedly from Van Gogh, welcoming them.
It's all part of the Institute's aim to separate the painter from his artwork and display him as a human being.
The Art Institute of Chicago have kept the details and imperfections of the room as close to the painting as possible.
Renters also get tickets to the Art Institute's "Van Gogh's Bedrooms" exhibition, which runs through to May 10. Curator Gloria Groom says staying in the room and seeing the paintings could be a powerful combination.
The exhibition brings together the three versions of Van Gogh's "Bedrooms" for the first time in North America. From 1888 to 1889, Van Gogh painted three different versions of the room in his "Yellow House" in Arles.
The bedroom might be like stepping into a painting, but the rest of the apartment is modern and practical. Sunflowers on the coffee table are a nod to another of Van Gogh's famous works.
A museum spokeswoman said February dates for the apartment booked up within minutes of the promotion being announced. More rental openings are set to be announced on the Art Institute's social media channels.