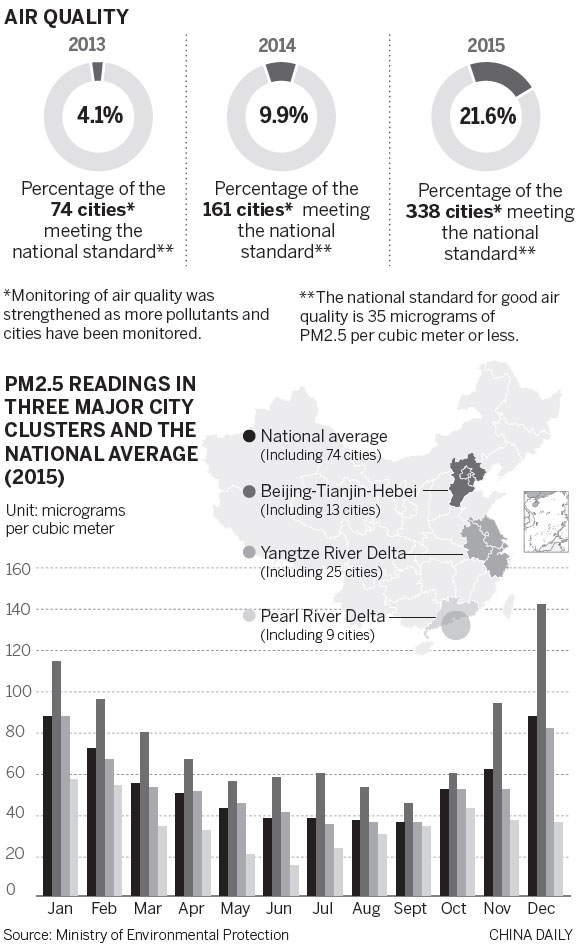 Jiang Nan, an engineer at the Beijing Municipal Environmental Monitoring Center, will become busier after the capital doubles the number of monitoring stations in a bid to improve the network and step up efforts to curb pollution. [Special coverage]
Beijing currently has 35 air quality monitoring stations, which measure major airborne pollutants including PM2.5 - particulate matter with a diameter less than 2.5 microns that is hazardous to health - and sulfur dioxide.
"We usually replace the core filter membranes at most every two weeks to guarantee the accuracy of measuring," Jiang said, adding that during severe smoggy days they replace them more frequently.
Using the real-time data, the center releases an hourly air quality index to the public.
The municipal government will use the information to coordinate response efforts, including issuing red alerts, the highest emergency response.
To improve the monitoring network and provide more accurate forecasting services, the capital will double the monitoring stations to around 70, said Li Shixiang, deputy mayor of the capital.
The central government has upgraded its air quality monitoring requirements since 2013, and in 2015 increased the number of cities with regular monitoring from 74 to 338.
Based on the national network, the Ministry of Environmental Protection releases monthly and annual reports on the air quality of the 74 major cities.
It has become a clear way to demonstrate air quality for the public, and the ranking system has driven governments to improve their performance.
Baoding, Hebei province, was among the cities with the worst air quality over the past two years. Wang Jinfu, deputy head of the city's environmental protection bureau, said he felt great pressure from the public and his superiors to curb air pollution.
The ministry has also set up an action plan to build a comprehensive monitoring network with detailed targets for the next five years.