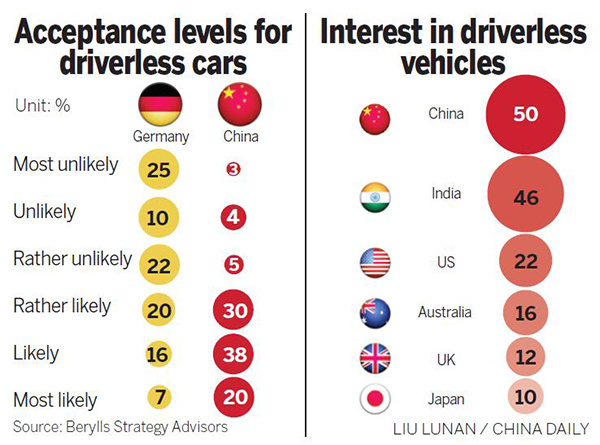 China's Internet and tech giants are driving autonomous car technology that brings 'disruptive innovation' to the automobile industry
Self-driving or driverless vehicles may sound like science fiction, but for some of the technology's advocates, including major automobile companies, the real question is when and how they will become a commercial reality.
They are convinced that computers have the potential to make better drivers than humans. For one, computers don't get drunk or fall asleep while at the wheel. For another, they can respond much faster than human brains at times of emergencies.
That is not all. Computer-driven vehicles can free drivers' bodies and minds.
China's Internet giant Baidu Inc demonstrated the many uses of this futuristic technology in a recent road test.
Its prototype car, which has been under development as part of its tie-up with German premium carmaker BMW AG, can turn the steering wheel itself while the person in the driver's seat can relax, hands happily up in the air.
In December, the Beijing-based Baidu set up a business unit dedicated to the development of autonomous driving technology. Baidu is part of a growing number of companies, ranging from carmakers to mobility service providers such as Uber Technologies Inc and Didi Kuaidi, that are getting their hands dirty in the global wave of R&D of autonomous driving technology.
Wang Jin, senior vice-president of Baidu, said cars will get smarter as technology evolves. "An autonomous driving car will be no different from a robot with wheels. It will be able to see, listen, talk, think, make decisions and act."
When cars get smart, they can know the precise locations of other cars, which can help reduce traffic jams and improve driving safety.
Wang predicted that in 10 years, about 80 percent of the newly produced cars in the world would be equipped with self-driving technology.
"The value of a traditional vehicle largely depends on its mechanics, such as engine, which makes it difficult for new players to overtake leading carmakers."
But autonomous driving, which requires a different set of skills, can "disrupt" traditional auto industry and bring a big opportunity for new players, he said.
This trend creates great opportunities for tech companies as autonomous driving cars need all kinds of tech-related hardware and software, from radars, lasers, sensors, cameras, high-definition mapping to cloud computing and artificial intelligence to process the information.
Beijing-based LeEco Holdings Co Ltd is among the technology firms that are keen to challenge traditional vehicle manufacturers. The company announced in mid-February that it will set up a joint venture with Aston Martin to develop the British luxury car brand's first electric vehicle.
Jia Yueting, founder and chairman of LeEco, said that his company will not just sell cars but provide value-added services to buyers.
Ding Lei, head of LeEco' car development arm, said it is building an operating system that can be installed in cars in the future.
"We are creating cars connected to the Internet so we can provide more services to drivers and passengers... Cars will become the next platform after smartphones that people use to interact with the world," Ding said.
Internet companies such as Alibaba Group Holding Ltd and Tencent Holdings Ltd have also partnered with Chinese automobile makers to develop automotive expertise in an effort to broaden their reach beyond smartphones and computers.
Cars are rapidly becoming one of the key parts of the so-called Internet of Things-the network of inter-connected computers, gadgets, appliances, furniture, machines and vehicles.