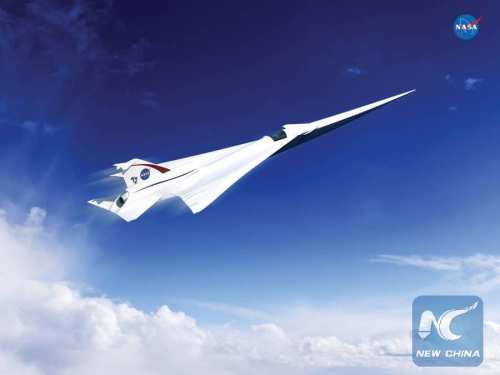 This is an artist's concept of a possible Low Boom Flight Demonstration Quiet Supersonic Transport (QueSST) X-plane design. The award of a preliminary design contract is the first step towards the possible return of supersonic passenger travel - but this time quieter and more affordable. (NASA photo/Lockheed Martin)
U.S. space agency NASA on Monday took the first step towards the possible return of supersonic passenger air travel by awarding a 20-million-U.S.-dollar contract for the preliminary design of a "low boom" flight demonstration aircraft.
NASA Administrator Charles Bolden announced at an event at the Ronald Reagan Washington National Airport in Arlington, Virginia, that the agency has selected a team led by defense giant Lockheed Martin to complete the preliminary design for the Quiet Supersonic Technology (QueSST) aircraft within 17 months.
"We're here today to talk about NASA's work to make flight cleaner, greener, safer and quieter -- all while developing aircraft that travel faster -- and building an aviation system that operates more efficiently," Bolden said at the event.
"And here's the magical part: the design is for a piloted test aircraft that can fly at supersonic speeds but create a sonic boom that's more like a soft thump instead of the annoying 'boom' that currently prohibits commercial supersonic flight over land," he said.
The detailed design and building of the QueSST aircraft will fall under a future contract competition, the space agency said.
QueSST is part of NASA's 10-year New Aviation Horizons initiative, which "has the ambitious goals of reducing fuel use, emissions and noise through innovations in aircraft design that departs from the conventional tube-and-wing aircraft shape."
The New Aviation Horizons X-planes, according to NASA, will typically be about half-scale of a production aircraft and likely are to be piloted.
Design-and-build will take several years, with aircraft starting their flight campaign around 2020 depending on funding, it added.
The first aircraft to break the speed of sound was the Bell X-1, a joint effort of the Bell Aircraft Corp., the U.S. Air Forces and the predecessor of today's NASA, known as the U.S. National Advisory Committee on Aeronautics.
Russia's Tupolev Tu-144 and the Concorde were the first supersonic civilian aircrafts to transport passengers at speeds greater than the speed of sound, but Tu-144 was retired in 1978 while the Concorde was retired in 2003 due to problems such as sonic booms.