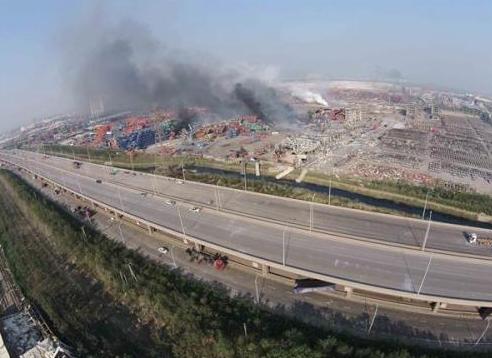 The site of Tianjin explosions on Aug.13, 2015. Down: The site of Tianjin explosions after being cleared on Nov.18, 2015. (Photo/Xinhua)
A woman who lost her 19-year-old son in the Tianjin warehouse explosion in August has conceived another child through in vitro fertilization.
Liu Yun'ai, 43, said her son, Cai Jiayuan, was among 104 firefighters who were killed following the massive chemical explosions at the port.
"The first few months after my son died were like hell for me," said Liu, who lives in a village in Hunan province. Working through her grief, she realized the best way to remember her son might be to have another baby. But she worried that conceiving naturally at her age might be problematic.
"I heard of a test-tube baby in the village ... and I thought maybe I could do that, too," Liu said. "But still, the chance of pregnancy after in vitro fertilization for me was only 5 percent."
Her 45-year-old husband agreed they should try, saying, "as long as there's hope, it's worth a shot".
Liu followed her doctor's directions for exercise and healthy eating, then underwent the procedure to harvest her eggs. Ten were removed, but only half were viable. She worried about whether that would decrease her chances to have a healthy baby.
Fortunately, she said, one embryo was successfully implanted. A positive pregnancy test confirmed the news and provided great relief.
"There are ups and downs, but I'd love to welcome the new apple of my eye," Liu said.
Zhang Mengfan, Cai's former colleague at the port, said many parents of those killed in the blast are trying to get pregnant, and most are older. He has been visiting the families to see how they are coping.
"One way or another, I hope every family of my lost comrades can find new hope," Zhang said.
"I hadn't expected this kind of great news."
Zhang, who retired in December, said the explosions killed eight firefighters in his brigade and wounded 18. As a telephone operator, he was the only one unharmed.
"I hope the families see me as their son. I want to try my best to help them," Zhang said.
Guo Xianzhen, whose 20-year-old son died in the explosion, said she wanted to recapture the feeling of being a mother, but getting pregnant might be difficult as she and her husband were both near 50.
"Liu's good news has given me new hope. I can also seek assisted reproduction, as she did, or at least adopt a son," Guo said.