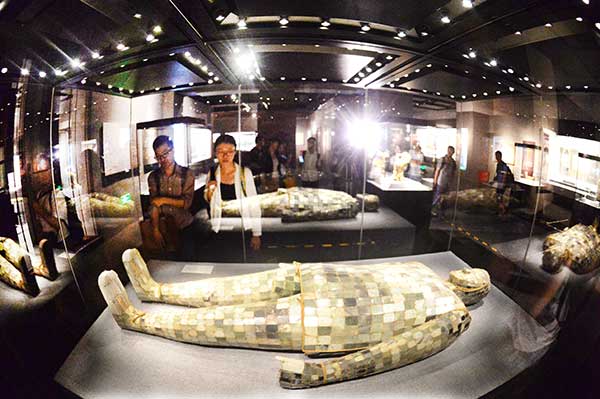 Visitors admire an exhibit of relics at Beijing's Capital Museum.(Photo: China Daily/Shou Yiren)
Beijing's Capital Museum is expanding its exchanges with other countries as part of the city's renewed focus on building a national cultural center.
In the two years since President Xi Jinping visited the museum and decreed that preservation of China's cultural industry should be one of Beijing's key roles, the museum has been working to set an example for the city's arts institutions.
Wang Anshun, Beijing's mayor, said the city will be focusing this year on cultivating cultural industries and better protecting cultural relics, consistent with Xi's mandates.
Guo Xiaoling, the museum's director, attributes some new ideas to the president's visit to the museum in 2014.
"Beijing aims to build a world-level cultural hub and museums should take responsibilities realizing the goal," Guo said.
In striving to reach this goal, the museum has gradually become a window for international cooperation. It has partnered with the Edo-Tokyo Museum in Japan and the Seoul History Museum in South Korea to hold conferences and exchange exhibitions. Last year, the Capital Museum staged Seoul, a City of Streams: The Changing Fortunes of Cheonggyecheon.
"Museums are not only cultural institutions, but have the function of promoting diplomacy and closely connecting different cities," Guo said.
There is still much to do. President Xi's recommendation that museums compile records and chronicles has become a pillar for the institution's work.
"We are processing projects on oral history and intangible cultural heritage to record the traditional Beijing lifestyle, for example," Guo said. "Everyone knows such work will take a long time. However, we need to leave some memories for future generations."
Guo also is busily preparing to mark the museum's founding 35 years ago and its move 10 years ago to its current venue. The museum will celebrate the two milestones this year with a series of top-tier exhibitions.
From March to June, the museum will stage an exhibition to commemorate the 40th anniversary of the discovery of the Fu Hao tomb and artifacts at Yinxu in Henan province. The site was identified as the final resting place of the queen and military general Fu Hao, who died about 1200 BC, and is the only Shang royal tomb found intact with its contents.
When the Hall of Mental Cultivation at the Forbidden City undergoes a major renovation in the fall, its highlighted exhibits are also to be shown at the Capital Museum.
Guo, who accompanied the president on his 2014 visit, said it was both memorable and inspirational.
"He is more knowledgeable than I thought about museum work," Guo said. "He is really easy to approach and gave us some suggestions."
The president was scheduled to visit the museum for half an hour, but stayed nearly 50 minutes, and stopped to remind photographers not to accidentally touch the cultural relics. "He suggested our exhibitions should let the history talk and present knowledge to visitors," Guo said.
Guo said Xi's visit inspired the museum staff to look beyond exhibitions as a mere display of cultural relics. For example, Harmonious Life: The Fate of Ba in Eyes of Yan Princess, a 2014 exhibition, selected 190 sets of bronzeware to illustrate the rituals of North China 3,000 years ago from a princess' point of view.
The exhibition was listed by the State Administration of Cultural Heritage as one of the country's Top 10 museum exhibitions that year.
"The number of exhibits is not so many, but we pay much more attention than before to designing easily understood information for visitors, rather than a simple juxtaposition of cultural relics," Guo said.
Guo is proud to have a young team - the average age of the museum staff members is about 35 - and he said they have been encouraged to create more scientific methods in cultural relic protection.