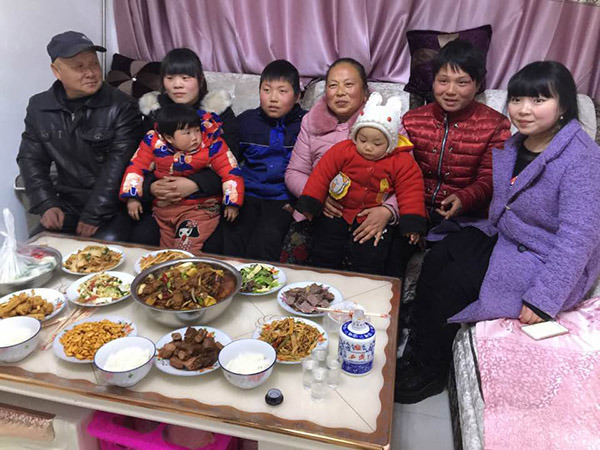 Lei Tao (second from right), his wife and two children with his parents and sister in Qianyang.(Photo by Zhu Changzhen/China Daily)
Seventeen years ago, at the age of 5, Lei Tao was lured away from his home in Qianyang county in Shaanxi province by a child trafficker's promise of fireworks, and sold to a family without a son in Yichuan county in Henan province.
As an adult, the migrant worker retained only vague childhood memories of his biological parents, a family grocery store and an older sister. He wanted to reconnect with them, but the search was daunting.
Xiuxiu, Lei's wife, helped him look for his family for years. They joined an online community, "Baby Coming Home", and submitted his DNA information to the public security department's database.
"There are many families suffering such pains like us on the Internet,"Lei said. "People do not know whether they can find their families, but they do not stop trying."
Lei had worked in construction since he was 16, taking jobs in Heilongjiang and Guangdong provinces and the Inner Mongolia autonomous region over the years. He is working at a construction site in Luoyang, Henan province.
Finally last fall, the DNA database found a match. Lei was informed that his biological parents lived hundreds of kilometers away in Shaanxi province. He clearly remembers the day when he met his parents again. It was the day after Mid-Autumn Festival.
"When seeing my parents, I could not recognize them at first,"he said. "They had become old and gray."
This Spring Festival, a time when families reunited around China, was special for Lei and his relatives. "It is really very lucky that I found my biological parents in my lifetime,"he said.
If he had not, he would have spent the holiday with his 83-year-old foster grandma, like he has since 1999, in Yichuan. "Of course, she is very nice to me,"Lei said. "But now, everything is different."
For one, he has a sister. Lei Yan, 23, brought many toys as New Year's gifts when she returned to the family home in Qianyang. She knew her long-lost brother would be back with his wife and two children in tow.
The two children, a 3-year-old daughter and a 1-year-old son, happily played with the toys, and Lei Yan was deeply moved by the scene, which made her think of her childhood without her brother.
Knowing Lei was back, more than 20 people gathered to welcome him, and ask how he lived over the past years. Tears of sorrow became tears of joy.
"The lost son returning home as a family of four? It looks like a dream,"said Lei's father.
For Lei, who was once surnamed Zhang, this year's Chinese New Year was very sweet indeed.
"This year is very special to me. We had a reunion dinner with my family, parents and relatives and we gathered together to watch the New Year's Gala on New Year's Eve,"he said with a smile. "I also shot off firecrackers at the midnight."
During his hometown visit, Lei helped at his parents' grocery store. He planned to stay until the end of the Lantern Festival on Feb 22, warm with the thoughts of his biological parents and the caring foster grandmother in Henan who wants the best for him.
"My best wish is to make the two families become much closer in the future,"Lei said.