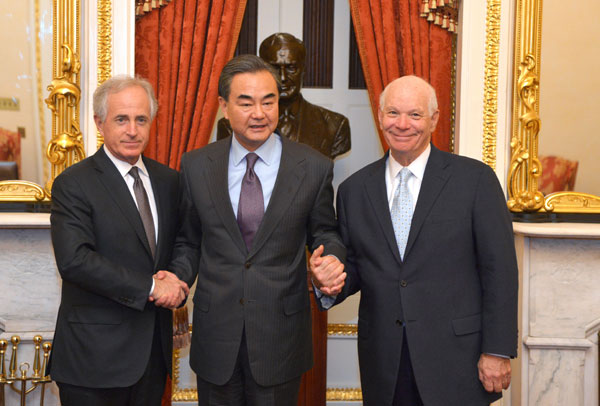 Chinese Foreign Minister Wang Yi (center) poses for a photo with Senate Foreign Relations Committee Chairman Bob Corker (left) and ranking member Ben Cardin during a visit to the Capitol Hill on Wednesday. (Photo/Xinhua)
Foreign Minister Wang Yi has referred to the historical fact that Washington used to support China's sovereignty claims over the Nansha Islands, and he said "it should, at least, honor its commitment to not taking positions" regarding the Nansha Islands disputes.
The senior Chinese diplomat made the remarks in a reply when he was meeting with U.S. senators, including the chairman of the Senate Foreign Relations Committee, Bob Corker.
In response to questions, Wang introduced China's principles and positions regarding the South China Sea issue, and he said safeguarding peace and stability and ensuring navigation security and freedom there "serves China's own interests".
China, based on international law, including the United Nations Convention on the Law of the Sea, is ready to embark on reconciliation with relevant countries to tackle divergences, Wang said.
"Also, China firmly safeguards its own lawful rights and interests," Wang added.
The senators said although divergences exist between the two sides upon issues such as human rights and the South China Sea, the two countries should work on closer cooperation to promote security and prosperity in the world.
When meeting with Republican Representative Ed Royce, chairman of the House of Representatives Foreign Affairs Committee, Wang touched upon the Korean Peninsula situation and said that goal is not sanctions but that the situation should be resolved "through negotiations".
The U.S. said it is ready to strengthen communication and coordination with China upon issues such as the Korean Peninsula situation.