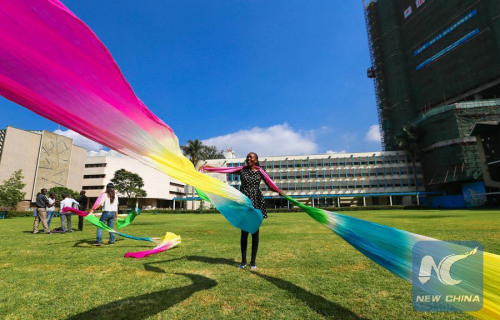 Wynn Kendi, a Chinese language student at the Confucius Institute of Kenya's University of Nairobi, practises Chinese dance on the campus, June 26, 2015. (Photo: Xinhua/Pan Siwei)
The Confucius Institutes have helped enhance China-Africa relations by promoting understanding between people from the two lands, a South African academic says.
"The Confucius Institutes are meant to make people understand evolving China and for the Chinese to understand Africa," David Monyae, co-director of the Confucius Institute at the University of Johannesburg recently said when addressing foreign envoys, government officials and academics in Pretoria.
He said the institutes are also meant to make people understand the philosophy of Confucius and compare it with Ubuntu, an ethical concept of southern African origin which is often translated as "humanity towards others".
He added the Confucius Institutes tell the Chinese story not from the Western lenses but gives direct contact with the Chinese, removing misconceptions about China.
Monyae said the relationship between China and Africa goes beyond the signing of trade deals and the holding of high political elite meetings.
"Africa can count on China for fair trade, for African voices to be heard in the United Nations Security Council," he said.
China is also helping Africa address illegal poaching, he added.
He said China and Africa have a long friendship dating back to "ancient times" and the two sides nurtured this relationship even when China was poor.
"We share a rich background of solidarity with China. We were both humiliated by the West in terms of colonialism and subjugation. They (the Chinese) supported the liberation struggle movements in Africa with training and supplying ammunition in South Africa and Zimbabwe among others," he said.
Monyae said many Chinese died while helping Africans in the construction of Tanzania-Zambia Railway in the 1970s. The rail extends more than 1,800 km from Dar es Salaam in Tanzania to Kapiri Mposhi in Zambia, and has become a symbol of traditional China-Africa friendship.
Confucius Institutes, he said, also give Chinese academics access to African universities and understand African cultures.
One of the resolutions adopted at the Johannesburg Summit of the Forum on China-Africa Cooperation (FOCAC) held December last year was to strengthen people-to-people relations, Monyae said, adding the Confucius Institutes would enhance such relations.
For trade deals to be done, there have to be understanding, Monyae said.
"In every relationship there are differences. When tempers rise in trade misunderstanding, the understanding brought by these Confucius Institutes comes to the fore," he noted.
For the people-to-people relationship to be improved between China and Africa, there has to be seminars as well as cultural exchanges, he said.