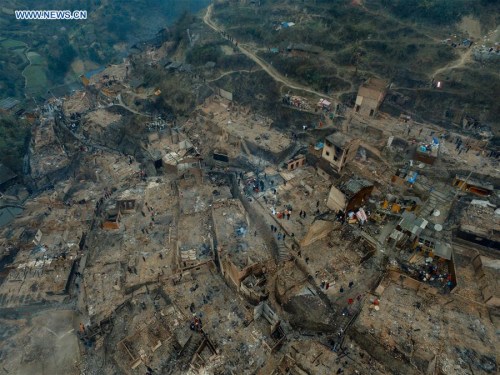 The Wenquan Village after a fire is seen in Jianhe County, Qiandongnan Miao and Dong Autonomous Prefecture of southwest China's Guizhou Province, Feb. 21, 2016. A fire broke out Saturday evening in the village, affecting 120 people and damaging more than 60 houses. (Photo: Xinhua/Ou Dongqu)
A fire that broke out on Saturday evening in southwest China's Guizhou Province has affected 120 people and damaged 60 houses, local authorities said on Sunday.
The fire started at around 6 p.m. in Wenquan Village, Jianhe County, according to the county government.
Firefighters extinguished the blaze at around 11 p.m. on Saturday. Local residents have been safely evacuated, and no casualties were reported.
Further investigation is under way.