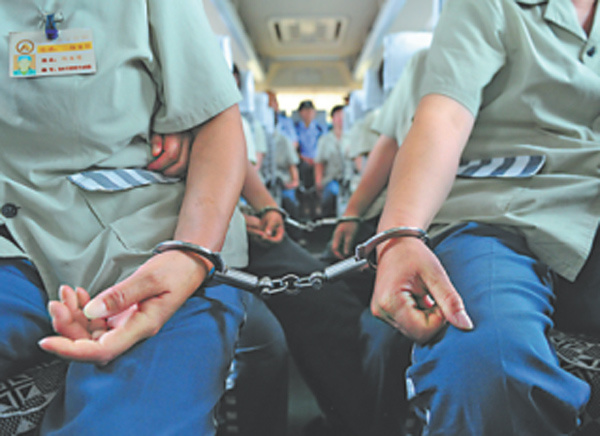 Criminal justice: Felons convicted of serious corruption would be prohibited from seeking shorter sentences, under a third reading of the draft amendment to the Criminal Law. The amendment aims to "safeguard judicial fairness". (Photo/China Daily)
Chen wenyan, a teacher in Zunhua, North China's Hebei province, was beaten by local police after she tried to report her school's illegal activities to higher authorities in 2010. When her school partly covered her medical costs she was charged with extorting money from them, found guilty and imprisoned. She was found innocent on appeal last September, and got her job back recently. Beijing Times says:
Chen's story best illustrates the cost of being a whistle-blower in China: as such people are treated as an enemy by local officials, who will use all measures, such as police harassment, to try and stop people from bringing issues to the attention of higher authorities.
Blackmail is a common charge used against whistle-blowers. When whistle-blowers are wounded by police or illegal gangs in the bid to stop them speaking out, some local governments send them aid, in order to trap them. The local procuratorates side with local governments and take the aid as "solid evidence" that the whistle-blowers have been blackmailing officials.
As local courts belong to the same bureaucracy as local governments and often side with them, it is time for the Supreme People's Court to intervene to better protect whistle-blowers from injustice.
More importantly, once innocent whistle-blowers are proved to be persecuted for their reporting of any malpractice by local governments to higher authorities, not only should the persecuted be rehabilitated, but also those officials who are found to be involved in the persecution should be punished according to law.
In the aforementioned case, not a single official, prosecutor or court judge involved received punishment for what they did to the innocent whistle-blowers.
The central government needs not just to urge local governments to change their mindsets so they stop treating whistle-blowers as threats. Those who intentionally persecute whistle blowers should be brought to justice according to the law, which will deter them from doing the same again. Whistle-blowers are the driving force of political progress and they are essential to clean politics.