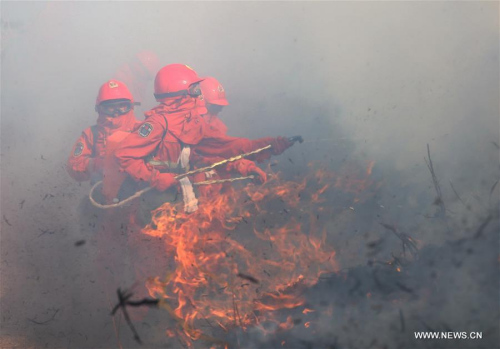 Soldiers take part in a fire drill at a forest zone in Xixiang Township, Xichang City of southwest China's Sichuan Province, Feb. 16, 2016. (Xinhua/Cheng Xueli)
The year's third forest fire in southwest China's Yunnan Province was put out Wednesday afternoon, local authorities said.
The fire started at around 3 p.m. and was extinguished at about 5:20 p.m. thanks to more than 200 people, including 60 firefighters, 50 policemen and 90 officials and civilians, according to the statement.
On Sunday, a forest fire killed one firefighter and injured six others in Yunnan Province's Shangri-La City. The fire was finally put out on Monday.
An initial investigation of the Sunday fire found it was started by someone burning bushes and weeds near farmland. A suspect is being questioned by police, according to previous reports.
In early January, hundreds of firefighters managed to put out a forest fire in Yunnan's Dali without casualties.
More than 94 percent of the land in Yunnan is forested mountains, making it hard to prevent fire especially in the dry seasons of winter and spring, said Du Yong, head of the local forest fire prevention office.
Managing the use of fire is key to preventing forest fires, most of which are caused by human activity, he added.