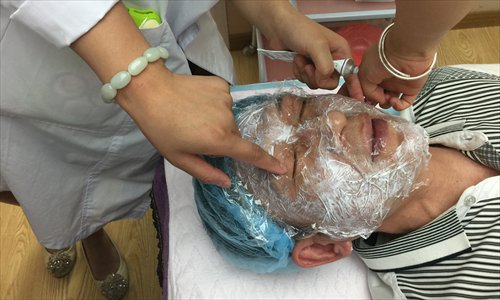 A middle-aged man undergoes a skin-tightening procedure at the Zhenmei Plastic Surgery Hospital in Hangzhou, Zhejiang Province. (Photo/Courtesy of Zhenmei Plastic Surgery Hospital)
Lying on an operating table with a bright surgical light glaring down on him, 50-year-old Frank Zhang couldn't have been more nervous.
"Even though I was injected with an anesthetic, I could still feel the doctor injecting some fluid, a cold flow, under my eyes. Then several flows [injections] on my forehead," said Zhang.
The "flows" Zhang described were small injections of a type of purified botulin neurotoxin (Botox) that is often used in cosmetic procedures. When injected into facial muscles, Botox acts as a muscle relaxant and smooths wrinkles. According to Zhang, the procedure was not very painful and lasted about an hour.
Zhang is just one of an increasing number of dashu (middle-aged Chinese men) who are embracing cosmetic procedures to keep their faces looking youthful and figures in shape.
"With the improvement in [China's] living standards, a greater emphasis is being placed on self-image. Therefore, more dashu are realizing that they can also pursue beauty like dama (middle-aged Chinese women) and young men by undergoing plastic surgeries to make themselves more confident, gain an edge in their career or keep up with their younger partner," said Feng Yongqiang, the chief physician at the laser cosmetology center at the Plastic Surgery Hospital in Beijing. Feng said he sees at least two such cases per week.
Appearance is everything
Zhang, CEO of a private company in Beijing, was quite often troubled by his "weathered" appearance. He said in business, image is everything and it is imperative that one gives the impression that things are great.
"Every time they find that I am hollow-eyed with a lot of wrinkles, some will think that I am inefficient and have to stay up very late for work, but it is not true," he said.
Learning that a friend had done plastic surgery to look younger, he decided to have a try. He did a series of cosmetic procedures, including Botox injections to remove wrinkles and hyaluronic acid injections to get rid of the bags under his eyes. After two courses of treatments over the duration a month, Zhang achieved the youthful appearance he wanted.
"When I turned 45, I was sad because I started to age faster. I panicked and tried to slow down aging with more exercise and changing to a vegetarian diet," he said. "[Now, after the procedures] I look 10 years younger and I am more confident."
Looking younger has also brought Zhang more business opportunities. According to him, aging is always linked to decaying and shrinking innovation. And in such a fiercely-competitive society, some business partners will think that you lack creativity and a pioneering spirit if you look like an old man.
Xie Ying, a marketing manager and plastic surgeon at the Hangzhou-based Zhenmei Plastic Surgery Hospital, told Metropolitan that now more dashu who have achieved a certain social status are concerned about their appearance and beauty, and are more open to plastic surgeries.
Xie said that the procedures favored by dashu include removing wrinkles, senile plaque, and bags from under the eyes, and that such cases make up one-tenth of the hospital's client base.
Feng recalled seeing a dashu, a senior manager in a company who had came to reduce the bags under his eyes.
"He kept saying that every one would think he doesn't sleep well with such big bags under his eyes. His boss also asked him whether they were due to tiredness and suggested that he reduce his workload. So, he worried that his position in the company was in jeopardy," said Feng.
Feng said some other motives for cosmetic surgery might include wanting to keep up with one's younger or younger-looking partner or even feng shui.
He said some people believe that removing the cleft in their chin and getting a bigger earlobe and smaller jawbone is better for personal feng shui.
He has also seen cases where middle-aged men are brought in by their wives.
"Besides career, the influence of the family should also not be overlooked. As many dama and their young children are accepting plastic surgeries to achieve a more beautiful look, some dashu are also inspired and do not want to lag behind partly to be better integrated into the family," said Feng.