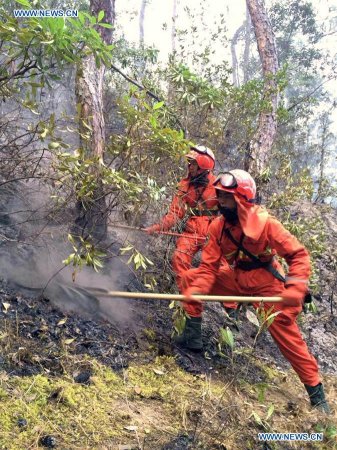 Firefighters extinguish a forest fire in Liangmei Village of Shangri-la in Tibetan Autonomous Prefecture of Deqen, southwest China's Yunnan Province, Feb. 15, 2016. (Photo: Xinhua/Feng Lun)
One firefighter was killed and six others injured struggling to put out a forest fire in Shangri-La of southwest China's Yunnan Province on Sunday.
Around 50 local firefighters and more than 120 villagers were mobilized after the fire broke out at 3:20 p.m. on Sunday in Liangmei Village, Shangri-La City, according to a statement issued by the provincial forest fire control headquarters on Monday.
The victim was burned to death as wind buffeted the fire. The injured are being treated in a local hospital.
The local government sent another 280 people at 5 a.m. on Monday to help put out the fire. They succeeded at 10 a.m. after the flames burned an area of about 150 mu (10 hectares), the statement said.
Initial investigation found the fire was started by someone burning bushes and weeds near farmland. A suspect is being questioned by police, according to the statement.