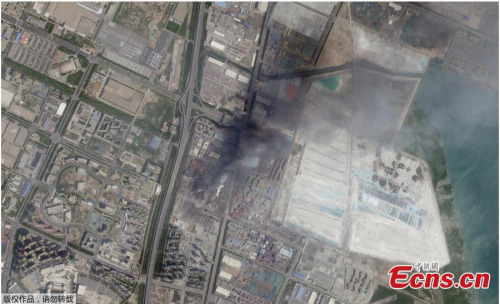 Google's aerial imagery shows the Binhai New Area of Tianjin after the blast. Fires after massive warehouse blasts in the northern Chinese port of Tianjin on Wednesday night are now "under initial control". (Photo/CFP)
Ten chemical plants in north China's Tianjin Municipality will be relocated following the report on last year's explosions at a chemical warehouse that killed more than 160 people.
Shan Yuhou, head of the Work Safety Bureau of Binhai New Area in Tianjin, said on Sunday that his bureau had checked 583 chemical firms and safety issues were found at 85 of them. Nine have since rectified the problems and 10 have opted to relocate, said Shan.
The official added that no chemical projects will be approved in Tianjin outside the Nangang Industrial Zone. Following the explosions, some chemical plants were ordered to move to Nangang, about 30 kilometers from the explosion site, and 10 kilometers from the nearest residential area.
Covering 200 square kilometers, Nangang aims to become a world-class multi-functional zone featuring a heavy chemical industrial base and port.