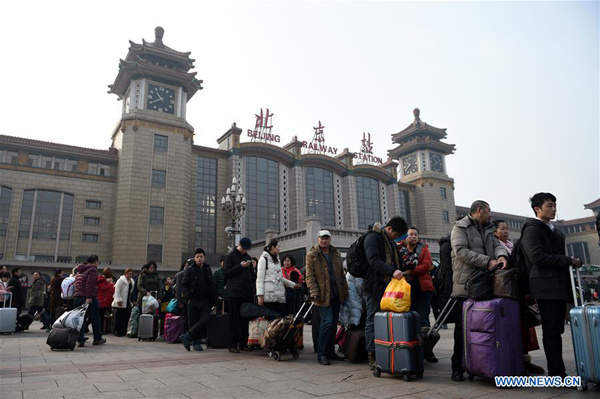 Passengers leave Beijing Railway Station in downtown Beijing, capital of China, Feb. 12, 2016. Railway stations around the nation witnessed surging passenger flows on Friday as the Spring Festival came to the end and people started to return to school and work. (Xinhua/Ju Huanzong)
Railway passenger numbers are expected to peak on Friday as the Spring Festival holiday ends on Saturday, the China Railway Corporation (CRC) said.
About 9 million trips will be made by train on Friday, up from Thursday's 7.9 million, as the Chinese return to work .
The CRC added 658 passenger trains on Friday.
A rail line in Xinjiang Uygur Autonomous Region struck by a 5.0-magnitude earthquake Thursday night resumed operations early Friday morning, said the CRC.X China's weather observatory forecasted that a cold front will bring low temperature and rain or snow to most parts of the country in the next three days.
The CRC said it has taken measures to prepare for the bad weather.