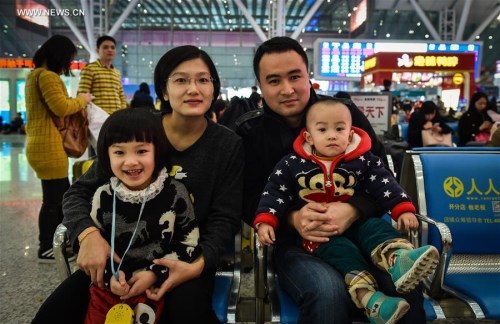 Mr. Zhao, a migrant worker from east China's Shandong Province, waits for train with his wife, 4-year-old daughter and 16-month-old son at Shenzhen Railway Station in Shenzhen, south China's Guangdong Province, Feb. 5, 2016. Lots of migrant workers come back home for family union with their children during the Spring Festival. (Xinhua/Mao Siqian)
More people chose to go home or for travel by train on the eve of Spring Festival than last year, the China Railway Corporation (CRC) said on Monday.
Passengers made 4.679 million trips across the country on Feb. 7, the lunar new year eve, increasing by 283,000 and 6.4 percent year on year.
The Shanghai railway station saw the biggest growth in passenger trips, increasing by 81,000 and 9.4 percent year on year.
A total of 2.94 million passenger trips across the country are expected on Monday, the lunar new year day, the company said.
Most of those trips are in short distance and for tourism as increasingly affluent Chinese tend to spend their Spring Festival holiday in traveling to different places with families.
China has spent heavily on the high-speed railway network which is already the world's largest, making it more convenient for riders to travel.
Around 3,300 km of new lines opened last year, bringing the total operating length to 19,000 km and completing the major frame of the network.
The CRC plans to spend another 800 billion yuan (121.7 billion U.S. dollars) in 2016, especially in less-developed central and western regions. Construction of more lines linking key cities will be accelerated.