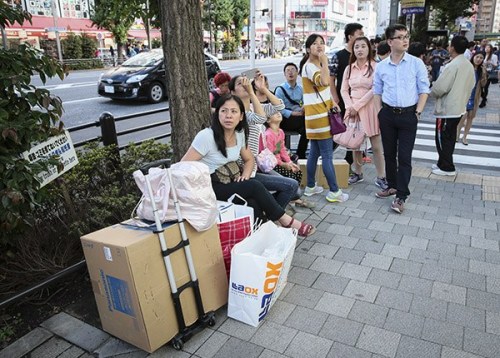 Chinese shoppers are seen in a photo taken in the Akihabara electronics shopping district in Tokyo, Japan on October 2, 2015. (File Photo/Xinhua)
China's outbound tourists are expected to spend at least 10,000 yuan (1,590 U.S. dollars) per capita during the Feb. 7-22 Spring Festival holiday season of 2016, which will once again make them the most powerful group of buyers around the world this winter.
Ctrip -- a major online travel agency in China -- anticipated that the total number of visits conducted by Chinese tourist overseas would reach a high of 6 million during the busy holiday season.
That's perfectly good news for places which are high on the list of Chinese tourists' favorite winter destinations, with the Top Ten including Seoul, Bangkok, Phuket Island, Singapore, Hong Kong of China etc, according to Ctrip.
They and others, which also want a share, have prepared with standard Chinese speaking shopping guides, hot drinking water services and discounts for holders of Chinese passports or Unionpay cards.
The break of the first seven days of the Spring Festival for most Chinese in the holiday season, traditionally a period of time for family reunions, now sees a new fashion of people spending time and money overseas.
Global retailers have found that the enormous purchasing power of Chinese shoppers may stem from needs behind every single customer, who buy for their families and friends as many brands have wide pricing discrepancies in different countries.
Li Fu, a Shanghai girl, who spent around 20,000 yuan (3,180 U.S. dollars) in her trip to Japan, stuffed 30 kg of cosmetics, watches and small appliances into her luggage back to China. "Many of my family members and friends heard my plan to travel and asked me to buy goods for them overseas," she said.
According to Japan's tourism agency, Chinese tourists' visits to Japan topped 4.3 million in the first 10 months of 2015 and their per capita consumption increased to 2,490 U.S. dollars in 2015 from 1,878 dollars in 2014.
Chen Xi, a young business woman from Beijing, rushed to Ginza after landing at Tokyo's Haneda International Airport Thursday, joining in numerous Chinese tourists shuttling between department stores and specialty shops in the well-known commercial zone.