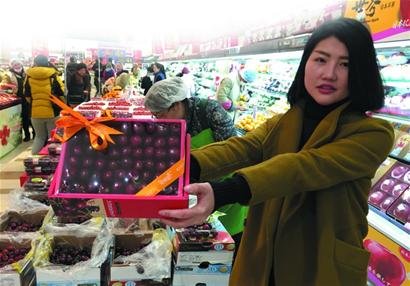 A woman holds a box of foreign fruits in a supermarket of Qingdao. (Photo/Qingdaonews.com)
Rapid enlargement of the well-off middle class in China has turned out to be an attraction for Latin American fruit producers who wish to export what they call "luxury fruits" to the China market in large quantities.
Mexico's blackberry and raspberry producers hope that the China market will make up around 20 percent of their exports in the future, the President of the Mexico's National Association of Berry Exporters (Aneberries), Mario Andrade, told Xinhua on Friday.
The sales of blackberry and raspberry this year will amount to around 50 million U.S. dollars, nowhere near the amount Mexican producers annually sells to its main market, the United States, which makes up 85 percent of Mexico's exports.
However, 2016 is only the second year in which Mexico exports blackberries and raspberries to China. The two countries signed a phytosanitary protocol on export and import of the fruits in 2014.
In 2015, when the agreement formally went into effect, exports to China only amounted to 70 tons because the trade opened in January, when the production season was practically half way through in Mexico, which usually runs from October to April, said Andrade.
"The first year was an essential test to find out what impact (the export of berries) would have on the China market," said Jorge Hernandez, a strawberry and raspberry farmer in the western state of Michoacan.
Hernandez, who previously only exported berries to the United States, said they were among the first to export fruits to China, hoping their organic products would win Chinese consumers.
The year 2015 saw Mexican raspberries and blackberries marketed in China through restaurants, hotels, supermarkets and distribution companies, according to Andrade.
People can find 170 grams a pack of the Mexican berries in shops for an average price of around 80 yuan (12 U.S. dollars), Andrade said.
According to the federal government, Mexico is the third largest berry exporter in the world. However, it is not the only country in Latin America to export berries to China.
In December 2015, a Boeing 777 cargo plane carrying 100 tons of Chilean cherries and blueberries to northeast China's Shenyang Province marked the first regular line of charter flights that bring fresh fruits from Chile to northeast China in only 20 hours a single trip instead of 25 days via shipment.
Berries are not the only "luxury fruits" that have seen a boost in sales in China. Avocado, known as "butter fruit" in Chinese due to its taste, is also making inroads.
Increased fruit imports also reflects the cosmopolitan tastes of China's middle class, who are ready to pay extra to sample new flavors, particularly those with health benefits.
More people will be able to afford those imported fruits, as the Chinese government aims to double the people's average annual income by the year 2020. This figure in 2015 stood at 21,966 yuan (3,338 U.S. dollars).
China imported about 5.14 billion U.S. dollars worth of fruits in 2014, up by 25.4 percent year on year. The 2015 figures are still to be released and are expected to be higher.