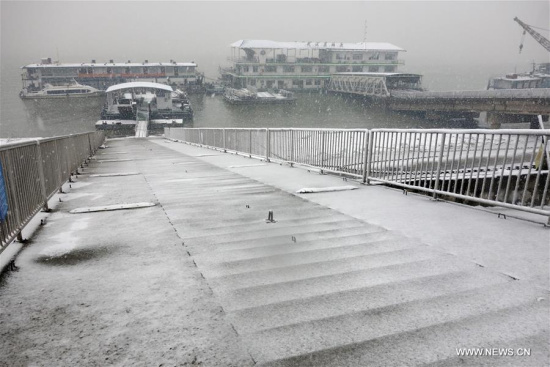 Photo taken on Jan. 31, 2016 shows a closed Yangtze River ferry dock in Wuhan, central China's Hubei Province. Local meteorologic authority issued yellow alerts against snow and road icing on Sunday, forecasting snowfall in Wuhan, Huanggang and Jingzhou cities. (Photo: Xinhua/Yu Guoqing)
Rare heavy snow hit several central and eastern Chinese provinces Sunday, disrupting a pre-holiday travel rush that involves millions of people.
Heavy snow blanketed central China's Hubei Province early Sunday, closing down a pivotal airport in its capital Wuhan, delaying trains and causing standstill on expressways, the local government said.
The Tianhe Airport in Wuhan was closed at midday. Sixteen departing flights were canceled, while 18 incoming flights were forced to land in the neighboring cities of Nanchang or Changsha. At least 2,000 passengers were stranded at the airport.
The railway network was also under heavy pressure, as large crowds of passengers, frustrated by flight cancellations and road blocks, flocked into train stations.
"We put four additional trains in service for passengers traveling within Hubei Province," said an official with the Wuhan Railway Bureau. "But the snowy weather slowed down most trains, causing an average delay of 30 to 50 minutes."
The weather bureau in Wuhan said the snow would last in most parts of the province until Tuesday.
In east China's Jiangxi Province, snowy weather caused serious congestions on interprovincial expressways. On one of the most congested sections of an expressway linking Jiangxi and Hubei Provinces, motor vehicles piled up 3 km in a standstill.
The provincial weather bureau has forecast snow in six cities and a temperature drop of 3 to 5 degrees Celsius.
Snow hit at least 12 cities in east China's Jiangsu Province Sunday. Local authorities have closed down four interprovincial expressways for safety considerations.
Snow or sleet also hit the provinces of Henan and Anhui, while rain soaked Guangdong, Fujian, Jiangxi and Yunnan provinces as well as Guangxi Zhuang Autonomous Region, according to the National Meteorological Center.
This round of rain and snow will last for three days, according to the center.
The bad weather is a nuisance for the early birds who have embarked on their once-a-year Spring Festival travel for home.
The 40-day travel rush, which began a week ago, was a major event in China. Students, migrant workers and other passengers take trains, buses and planes to head home for the Spring Festival, or the Lunar New Year, which falls on Feb. 8 this year.