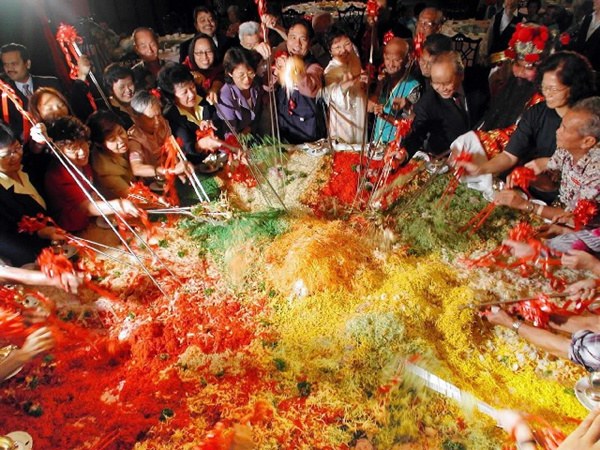 Yu Sheng, or Yee Sang, is a traditional food ritual during the Lunar New Year. Diners toss ingredients high in the air to wish for luck and happiness. (Photo/Xinhua)
(ECNS) -- For those who haven't made their decisions on where to go for the Lunar New Year holiday, Indonesia says the country could be a good choice for beach trips and an authentic festive atmosphere.
The Ministry of Touriam of Indonesia and the Indonesia Embassy in Beijing held "last minute" promotion events across five Chinese cities -- Beijing, Shanghai, Wuhan, Guangzhou and Kunming, with presentations by various tourism vendors.
The 2016 Lunar New Year will fall on February 8. It's celebrated in countries with significant Chinese populations, such as China, Singapore, Thailand, Indonesia, Malaysia and the Philippines.
"We're actively promoting travel in Indonesia, because Chinese New Year is a very important holiday," said Jordi Paliama, Deputy Director of Promotion for Asian Pacific Sales Mission of the Indonesia Tourism Ministry.
"We experienced a boom last year during the Dragon Boat Festival and hope to see the same thing for the Spring Festival," said Santo Darmosumarto, Counsellor for Social and Cultural Affairs.
During Dragon Boat Festival (also known as Duanwu Festivel and usually held in June), outbound tourism usually grows by 30 percent, according to China Tourism Research Institute. Indonesia was one of China's top five outbound tourism destinations during the 2015 Dragon Boat Festival holiday, while it ranks seventh on a regular basis.
It's reported that Indonesia has over 10 million Chinese.
"Chinese New Year has become an official holiday in Indonesia and part of our culture. The whole country gets one day off on February 8," Darmosumarto said. "It can be very festive, particularly where the Chinese community is large."
He gave an example of Singkawang, a small city with huge Lunar New Year celebrations.
Traditions and celebrations can be quite similar to those in China on the Lunar New Year. Families gather together for dinner on New Year's Eve, and performances are staged in malls.
Andy Fong, General Manager of Batam View Beach Resort, was one vendor at the promotion event in Beijing on Thursday.
According to Fong, the resort will host a series of celebrations for seven days during the Lunar New Year, such as flying lanterns and lion dancing -- things people do in China too.
The most enticing part is Yu Sheng, or Yee Sang, Fong said. Diners toss ingredients high in the air to wish for luck and happiness.
A little different offer is from Sobek Bali, where visitors could try rafting to celebrate New Year, said the resort's assistant sales manager Made Sudiasna. It charges $79 for adults and $52 for children.
Although Jakarta was hit by a terrorist attack on January 14, Indonesia wants to assure tourists that the country is doing its best to prevent such things from happening again.
Paliama said the government mananged quickly to neutralize the attackers, and that along with the embassy and the tourism ministry, it will assure Chinese visitors that it's safe to travel.
Indonesia has been revamping efforts to lure more Chinese visitors in recent years. In 2015, about 1.2 million visited Indonesia. Paliama said Indonesia wants to see the number rise to 1.7 million in 2016.