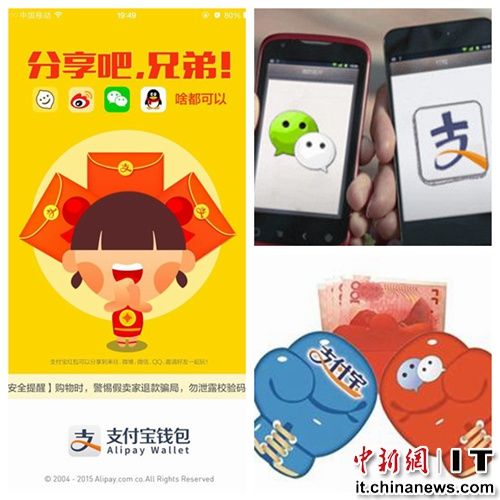 Both Alipay and WeChat plan to pour tons of money and effort into digital red envelope, while Baidu Inc will join for the first time. (Photo/Chinanews.com)
China's Internet giants have been gearing up for the upcoming Chinese Lunar New Year hongbao (red envelope) giveaway. Both Alipay and WeChat plan to pour tons of money and effort into the event, which Baidu Inc will join for the first time, signifying fiercer competition. They are all vying for more users. In the past, WeChat has frequently come out on top in the hongbao war, but analysts said that Alipay may have a chance to snatch a victory this time.
It is that time of year again. The Chi-nese Lunar New Year is still more than a week away, yet digital red envelops, or hongbao, filled with cash and coupons are already ubiquitous.
At 10 am on Saturday, a Beijing-based white-collar surnamed Jiang start-ed constantly tapping her smartphone screen to grab digital hongbao via Alipay, an online payment tool of Internet giant Alibaba Group Holding.
Jiang, who won a 5 yuan ($0.76) Burger King coupon, told the Global Times on Monday that she was the lucky one, because her friends got noth-ing for their late entry into the hongbao grabbing battle.
Alipay said its users snatched 10 million hongbao with 5 yuan to 10 yuan coupons in 22 minutes on Saturday.
This is a part of the hongbao grab-bing activities that Alipay launched on Saturday to celebrate the upcoming Chinese Lunar New Year. The activities will continue until February 10.
The latest round of hongbao grabbing involving 4 million data traffic pack-ages gifted by domestic telecom carriers ended 15 minutes after it started on Tuesday, Shen Yunfang, a public rela-tion manager at Alipay, told the Global Times on Tuesday.
Meanwhile, its arch rival WeChat started its hongbao campaign for the upcoming Lunar New Year on Tuesday evening, joining up with nearly 20 business partners including automaker Ford Motor Co and cosmetic maker Shanghai Jahwa United Co.
This year's Chinese Lunar New Year hongbao battle has also attracted Inter-net giant Baidu Inc, which revealed its ambitious plan to send out digital red envelopes with a combined value of 6 billion yuan, according to an email sent to the Global Times on Monday. Baidu's campaign starts Thursday and will run nearly one month, making it the longest of this holiday season.
Counterattack
After Tencent Holdings launched its digital hongbao grabbing activity in 2014 as a promotion for WeChat's mobile payment feature, Alibaba Founder Jack Ma reportedly described the event as a Pearl Harbor-like attack on its Alipay online payment service.
Alibaba's hongbao efforts over the past two years failed to create as much buzz as Tencent's. However, it seems that Alibaba wants to make some changes this year.
In December 2015, Alibaba an-nounced that it won a bid for an exclu-sive partnership with China Central Television (CCTV)'s popular Spring Festival TV Gala, which in 2015 helped Tencent send 120 million hongbao on the eve of the Lunar New Year, called chuxi.
When asked about the deal dur-ing the World Internet Conference in Wuzhen, East China's Zhejiang Prov-ince in mid-December 2015, Tencent Chairman Ma Huateng said Alibaba has competed "very hard," according to media reports.
The deal reportedly cost Alibaba 269 million yuan, which analysts said was worthwhile, giving Alipay the ability to take on WeChat in this year's red enve-lope competition.
"CCTV's Spring Festival Gala has a high brand awareness and audience rating. With the deal, Alipay's hongbao campaign this year will work out well," Hao Zhujing, an industry analyst with Beijing-based market research firm Analysys International, told the Global Times on Tuesday.