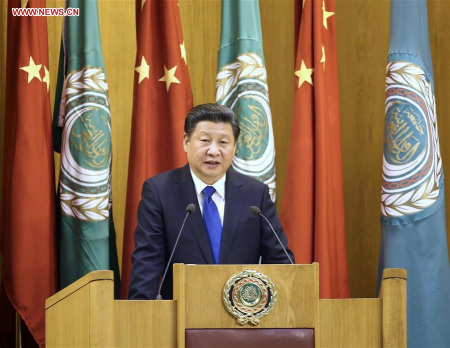 Chinese President Xi Jinping delivers a speech at the Arab League headquarters in Cairo, Egypt, Jan. 21, 2016. (Photo: Xinhua/Pang Xinglei)
The Chinese vision for the Middle East unveiled by President Xi Jinping in his three-nation tour offers a fresh approach to the conflict-torn region's thorny issues by highlighting dialogue and development as the core solution.[Special coverage]
The Middle East has been haunted by persistent turbulence and bloodshed that have claimed hundreds of thousands of lives and displaced many others.
Addressing an audience at the Cairo-based Arab League headquarters, Xi said the key to resolving differences in the Middle East is to enhance dialogue, while the key to overcoming difficulties is to promote development, and the key to choosing the right path is ensuring it suits the national conditions.
The roots of the problems in the Middle East are complicated, with prolonged sectarian rifts, national contradictions, weak development and Western intervention all playing a part and dragging the region into crisis.
A study of history shows that force is never the right solution to problems, and zero-sum or winner-takes-all logic is inconsistent with the call of the times.
The surest way to find maximum overlap among the interests of different parties is to seek consensus and be understanding and accommodating.
China advocates resolving regional conflict through political dialogue rather than confrontation. The country has played a unique and constructive role by actively mediating between parties on regional topics such as the Iran nuclear issue.
The Chinese leader is trying to convey to the Mideast the Chinese experience of resolving issues through development.
During his trip, Xi said China supports the Arab world to solve its problems on its own through development and dialogue, adding that the process of dialogue might be long but will yield the most sustainable results.
This has been proved by China's successful experience over the past 30 years, while Western interventions in the region based on selfish agendas have provided counterevidence.
Having achieved rapid economic and social development along an independent path with Chinese characteristics, China knows the importance of stability and a suitable path to fast growth, which are two elements critical to the development of the Middle East.
Middle Eastern countries, which are currently undergoing reform and change, urgently need guaranteed political stability and dynamic economic growth.
Identifying development as the core solution to the Middle East turmoil, Xi showed that China is a supportive and cooperative partner with the announcement of several moves to promote development in the region.
They include cooperation projects in industrial capacity, infrastructure and energy with Saudi Arabia, Egypt and Iran under the Belt and Road Initiative framework, and hundreds of millions of U.S. dollars in assistance to people in Palestine, Syria, Jordan, Lebanon, Libya and Yemen who are suffering conflict and war.
Meanwhile, the Chinese leader made it clear that his country is not looking for proxies or trying to fill any "vacuum" in the Middle East, but aspiring to build "a network of mutually beneficial partnerships."
It is hopeful that the wisdom of China, which is trusted by Middle Eastern countries as a non-interfering country, could serve as an effective remedy for problems and herald a brighter future for the region.