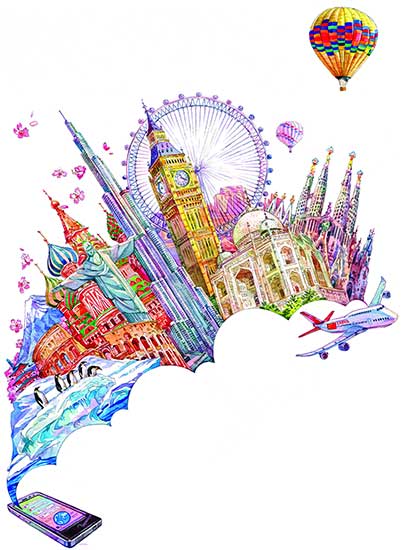 (Photo by Li Min/China Daily)
Smartphones are advancing China's outbound tourism boom
For adventurous travelers like Chen Yu, deciding where to go on holiday used to involve hours of scouring guidebooks for tips on attractions, decent hotels and how to get around in a foreign land.
"Now, all I need is my smartphone," the 35-year-old Beijinger says.
Rapid technological advancement means even cheap mobile phones are effectively palm-top computers.
Avid travelers have been among the biggest beneficiaries of this technological revolution. They can book flights and hotels in an instant, use "digital wallets" to buy souvenirs, post reviews on the fly, and download apps that offer detailed maps and guides of far-flung places - all in their native language.
"An app can lead me straight to a place serving authentic food, a popular show or to an experience that gives me a taste of the local life," Chen says.
Mobile-Internet development has undoubtedly contributed to China's outbound tourism boom, which led to the country becoming the world's biggest source of tourists in 2012.
Bank of America Merrill Lynch has estimated the number of outbound Chinese may increase from the 130 million predicted this year to about 174 million by 2019, with tourist spending increasing to $264 billion.
"Technological advances have been key, as the Internet has reduced travel costs and made exotic destinations more viable (for Chinese tourists)," says Zhu Zhengyu, an analyst at Analysys International.