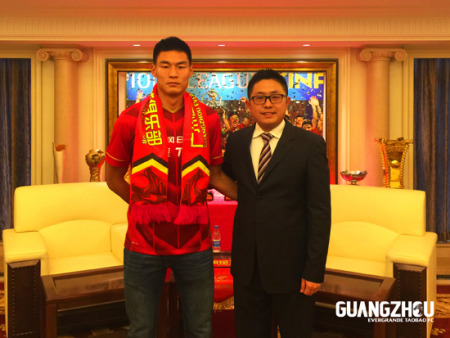 23-year-old Han Pengfei (L). (Photo/Guangzhou Evergrande)
23-year-old Han Pengfei is now a member of Guangzhou Evergrande as he completed his transfer from Club Deportivo Mafra to the Chinese league winners on Monday.
Han is the third Chinese player with overseas experience signed by Guangzhou Evergrande this season after Xu Xin and Li Yuanyi.
Born in 1993, Han Pengfei joined Club Deportivo Mafra of the Portugese Liga in 2013 and won the Portugal national championship as a first-choice defender in 2015. He also played for Chinese Olympic team at the 2014 Incheon Asian Games.
In a press release, Guangzhou Evergrande says that the club has long been eying on the young talent and believes Han meets the criteria of the club. "The signing will further improve the age structure of the team, enrich our talent pool for the future and it will be beneficial to our squad in depth when we pursue multiple titles."