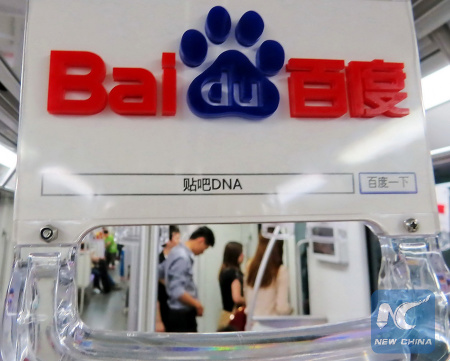 Sign of Baidu forum seen at a exhibition in Shanghai on May 28, 2015. (Photo/Xinhua)
China's top search engine operator Baidu has come under fire for capitalizing on its disease-themed forums, as users revealed that the online communities have been flooded with quacks and advertisements for unlicensed hospitals.
The IT giant announced on Tuesday that it will end cooperation with commercial groups over management of the medical platforms. However, the response seems to have had little effect in soothing the outrage of Chinese netizens, who accused Baidu of lacking social responsibility.
The scandal emerged after a user published a post on the Quora-like platform Zhihu on Jan. 9.
The blogger, with the screen name "Ma Yi Cai," said he was an administrator for an online hemophilia forum until Baidu sold the management rights to an unlicensed private hospital, which used the platform for self-promotion and deleted comments that challenged its credentials.
"Ma Yi Cai" uploaded a string of screenshots as evidence. The post quickly went viral, drawing thousands of clicks and comments.
The hemophilia forum is one of several disease-related forums under Baidu Tieba, a popular bulletin board consisting of 19 million sub-forums covering topics on everything from music, sports, video games, and food to more obscure topics, such as one dedicated to reading on the toilet.
The disease-themed forums often function as online support groups where patients exchange information on treatment while cheering each other up.
However, after Baidu overhauled its Tieba business to allow commercial organizations to hold administrator rights in 2015, as many as 40 percent of its disease-related forums were sold to unscrupulous private medical groups, drug manufacturers and charlatans, according to an estimate by Zhizhu user "ytytytyt," who researched forum ownership.
Medical groups have long been top advertisers on Baidu's search engine. Private hospitals were estimated to have contributed at least 10 billion yuan (1.52 billion U.S. dollars) to Baidu's ad revenues in 2014, according to a report carried by Tencent Technology last year.
Frequent media reports revealed that consumers, misled by advertisements on Baidu, had been cheated by fake medical companies.
In 2014, Yu Minhong, CEO of education company New Oriental, publicly censured a private hospital, which he believed was responsible for his employee's death in childbirth. The hospital was later exposed to have advertised heavily on Baidu.
It was not the first time that Baidu's business model has attracted public backlash. Baidu's bidding system for keyword advertisements, through which advertisers submit competing offers for top rankings in search results, was criticized severely after China Central Television exposed the practice in 2011.
For many, the hemophilia forum scandal brought back those memories, triggering some scathing comments.
"These are definitely ill-gotten gains, and Baidu is losing its conscience," wrote a user named Wu Zhixi on instant messaging service Wechat.
"I will never use Baidu anymore," said another user "Debug Kun."
Fang Xingdong, founder of blogchina.com, said people were agitated because Baidu, as a key search engine, serves as an "entrance" to the Internet.
"If the entrance is crooked, all the information will be twisted," he added.
Some scholars called for rationality and a legal point of view.
Cong Lixian, law professor with Beijing Foreign Studies University, said it is more important to discuss whether Baidu should assume liability for users' losses brought about by the fake hospitals and doctors.
Zhu Wei, researcher at China University of Political Science and Law, said there is nothing wrong with Baidu pursuing profits, but the company should be cautious about the ways it makes its fortune.
The crisis forced Baidu to stop cashing in on its disease-themed platforms. However, other Tieba sub-forums are still open to advertisers.
Even among its disease forums, Baidu is not fully clean. While the hemophilia forum has been handed back to its former administrators, users found that forums on Epilepsy, Parkinson's Disease and others are still run by medical groups.
Zhu suggested that Baidu should not give commercial groups access to any forums related to people's health or economic security.