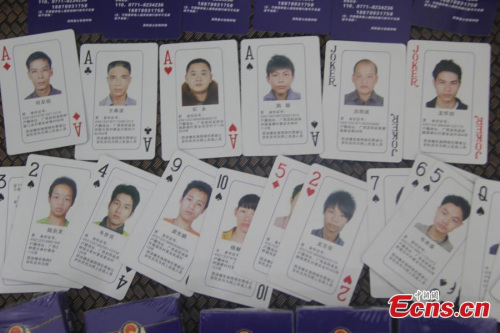 The photo shows a set of poker cards printed with head shots and other information of suspects of cybercrimes in Binyang County, Southwest China's Guangxi Zhuang Autonomous Region. (Photo/IC)
Police in Binyang county in south China hope to have a full jailhouse after printing the faces of 248 fugitives on playing cards to help locals identify the criminals.
Police printed the faces of the fugitives, all suspected of Internet crimes, on the cards in five different sets, with 3,000 decks of each made, and freely distributed the 15,000 decks to locals in hopes of gaining help on the hunt, an unnamed officer told Xinhua.
"Along with photos of the suspects, one can also find their ID number, address and the reason the person is wanted," the police officer said. "On the back of the cards there is a hotline number to call."
Those who offer information on the fugitives are entitled to a minimum 2,000 yuan (about 304 U.S. dollars) reward if the clue leads to an arrest.
With its population exceeding one million, Binyang in Guangxi Zhuang Autonomous Region is notorious for online fraud involving chat software. Some web users call it the "city of madness".
The Spring Festival is drawing near, which is the most important traditional holiday in China and is usually an occasion for family reunions. Police believe the fugitives might return home for the holidays.
On Sunday, they distributed more than 2,000 packs of cards at a town square in the county seat. The rest of the cards will be given to residents in townships and villages where the suspects once lived.